When life keeps you at your toes every minute, you need to take care of your priorities.
A healthy relationship with your partner is truly a safe haven. But sometimes, even the strongest relationships face the wrath of life responsibilities.
You wanted her to be your girlfriend more than anything and you have her finally in your life. But it doesn't end here. It actually starts from here.
You need to make out time for your loved one because the happy remembrances of times spent together will remain with you forever to be cherished.
If you have excellent time management skills, turns out the balls are in your court.
But what if you haven't been able to make time for your partner? So here are few ways to help you make time for your partner.
Ways to Help You Make Time for Your Partner
Find A Common Interest That You Share with Your Partner
Find a hobby which is common between both of you and find time to do it together. You can plan a surprise date or a short vacation getaway to spend some wonderful time with your partner.
Arrange for Candlelight Dinners at Night
Make sure that you spend adequate time with each other at night.
For a start, arrange candlelight dinners and make sure that every night is a date night. Follow this up with some romance in your bedroom. This will help to make your relationship lively.
Be Adventurous
Try doing adventurous things like mountain-climbing, scuba diving, skydiving, etc. with your partner. Adventures will surely bring you closer to your partner.
Write Romantic Notes or Love Letters for Each Other
Make it a habit of writing a note or love letter for each other amidst your busy schedule and making a point to read it on your dinner table. In this way, both you and your partner can make each other feel special.
Make Plans on Every Weekend
Go away from the chaotic and busy streets and plan a weekend away from home. This romantic getaway would bring you closer to each other.
Pray Together Everyday
No matter how busy you are, manage some time and pray to God together with your partner. When you do that, the heart and soul of both of you will be closely knit with each other.
Read Books Together
You and your partner should alternatively take turns to choose a book that you would read together, and if the book has been developed into a movie, read the book and discuss the story with each other and then go out to watch the movie.
Shop for Household Stuffs Together
This is the most practical and easy way to manage time for each other- for buying household stuff together.
In this way, both of you would get to buy things of your own needs and at the same time spend time with each other.
Take Your Partner on Your Office Trip
You might be busy with your work during the trip, but whenever you would get some free time, you can spend with your partner and enjoy a few days of vacation.
Have Your Meals Together
Both of you might be busy with your work, but having meals together would bring you close. You would get to know about each other's day too.
Well, in today's world, everyone is so busy and occupied with their own life and work that it becomes difficult to manage time for their partner but don't let that come in between you both.
It is important to make time for your partner to keep your relationship alive and rejoice the flavour of love in your life.
Go to Bed Together
Sleeping on the same bed is not enough. Making love with your partner, cuddling them and having little conversations before falling off to sleep acts like a daily dose of happiness.
A quick tip: If your time doesn't match with theirs, try to just share nap times, at least?
A Movie Marathon sounds Exciting!
A movie date with your partner sounds cliched but never goes out of fashion.
You can choose to spend time with your partner cuddling them on the couch along with a bucket full of popcorn or a hot bowl of Maggi while watching your favorite film. Doesn't this sound so comforting and warm?
I'm already secretly hoping, you work out this plan!
"The Going-to and Coming-back-from Work" Rituals
Whenever you both depart from each other, spend some moments together. Give a hug, wish a "Good day" to each other, ask for their schedules planned for the day and sometimes plant a kiss on the forehead. Make goodbyes important.
At the same time, make sure you express to them how blissful it is to come back home to your favourite person. Don't forget to ask each other about how their day went, share thoughts and chill together for some time.
A quick tip: Sometimes, you can also drive to their office and surprise them!
Follow a Healthy Routine Together
Sipping a cup of green tea early morning might seem more helpful if you have a companion.
Eating a bowl of salad and cooking healthy meals work the best when you have your partner by your side.
Devote some time together to exercise that helps clearing your mind, like hit the gym together, go for a run or attend yoga classes. Let's go for fitness spree together and lead healthier lifestyles.
Also, when you work out, you release endorphins that enhance the sense of well being and will eventually attract you both towards each other.
Maybe soon, you both start getting compliments on how the two of you perfectly complement each other. Isn't that the best thing to happen? (Of course, not! Your partner is the best thing that happened to you! :P)
Be Mindful about What They Do and What They Like!
Pay attention to little things, because they say a lot about what your partner is secretly expecting from you.
For instance, run a few errands for them if you see them messed up with work; make a cup of coffee for them if you see wrinkles on their forehead; notice what they are wearing and take a moment to compliment them; maybe they have put on the shirt or dress that you like the most just to gain your attention.
How can you let these signs go in vain?
Grab these opportunities and make the most out of them!
Don't be guilty of not being able to spend sufficient time with your partner. Take this opportunity to make it up with them.
To lead a blissful life with your loved one does not demand much, just constant efforts to spend quality time with each other, professing love on some days and taking care of one other, every day.
Image source – DepositPhotos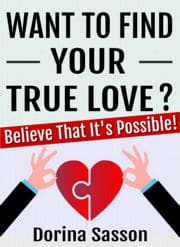 Want to Find Your True Love?
Find out how to attract love into your life