Singapore is said to be the safest and smartest country in the world. This country is rigorous in implementing rules and highly secured for foreigners, especially for students.
Singapore has a great mean of public transport system and offers a number of other facilities due to which students love to study in this country.
Singapore's education system is reliable, and if one pursues his/her medical study in this country can easily take an examination of practice in any other country.
Although it is a small country, it has a great reputation for world-class medical research, education, and other pharmacy courses.
From being trained under the supervision of experienced research and clinical faculty, medicine is one of the top academic disciplines of this country. It is always worth it to enroll yourself in a pharmacy course Singapore or in other fields of medicine.
Reasons Why You Should Study Medicine in Singapore
This writing piece will let you know why you should study medicine in Singapore.
1. Standard Study
Do you know Singapore has exceptional education standards and also considered the leader in higher education in Asia and around the world?
There are many countries who look forward to setting up their international campuses in this country. For example, take Duke-NUS Medical School. It is situated in downtown Singapore. Singapore is best known for medical studies/
2. Experienced Research and Clinical Faculty
When you are deciding on a country that you should choose to pursue your medical studies, picking Singapore is worth it. They provide their students with experienced, qualified, and skilled staff in all areas. They can develop students' problem solving and critical thinking.
To choose the right institution for your medical study in Singapore, you can visit even online websites that are providing their services to students. Do some research on your own to find out what universities you afford.
3. They Have Innovative Teaching Methodologies
Different universities in Singapore have innovative teaching methodologies that prove greatly helpful for students.
They make students able to learn things beyond memorization.
Their teaching staff is more practical and provides students with more chances to practice what they learn through theory.
They have reliable laboratories for students to practice and make themselves perfect in their fields.
4. English is the Medium of Instruction
As we all know, the English language is the language of communication. Almost in every field of life, people use the English language as a communication medium.
Students who belong to different nations come to this country to fulfill their dreams and achieve their goals. They are facilitated in different ways. They get their lecture in language that is probably easy for all of us to understand.
5. Leader of Research World
Singapore ranked first in the research field. They have a number of laboratories and other institutes that allow students to do practically.
There is a belief that only theory is not enough. Especially in the fields of medicines students have to be practical. This is where Singaporean medical institutions provide students with enough space so they can do practicals.
About the Author
Steve Holland writes about colleges, study opportunities abroad, and travel.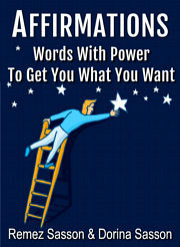 The eBook about Affirmations
Learn how to improve your life with positive statements