You want to climb the ladder in your career. Fast. You want to have all relationships in awesome manner.
The sad truth is it isn't how you expected.
People get sad; you don't know what to do. In your job, others seem to do exact same thing like you. Yet you are moving no where and they are getting promotions and hikes.
Either you can live with complaining or do something. You need to apply the golden gem which helps in achieving your goals.
The Misconception
We hate to admit that people who are more successful than us are because of their attitude. We love to think it is their luck and we have bad luck.
Instead of getting jealous, analyze your colleagues or better ask them how they achieve the promotion or the most beautiful relationship with everyone.
There is a reason some people always get what they aim for and others miss on every opportunity. It is not luck; it is not that your boss hates you. Maybe he hates you, he still want you to succeed.
It is your take on how you approach your boss or the person with whom you want to improve the relationship.
The Reveal
To achieve the greatness, you don't need a degree from Stanford University. Although it is nice to have one, it is not the key element.
COMMUNICATION is the key.
80 percent of the world's problem will be solved only if people will communicate. Talking should be complimented with listening and understanding the other person.
Yes… I did say it was the simple solution. Doing it practically isn't simple. Consider this example, when you do any mistake, it takes more time to say simple "Sorry".
It feels like a burden to admit our mistakes.
It is more difficult to ask successful people on what mistakes you have been doing. We hate to hear we suck at life and job.
Admitting we are not doing good is the first step to come out of our comfort zone. Communicate your concerns, problems and ask for advice.
People are more than happy to help you. Follow them and slowly you will see the rewards of your work with promotions and appreciation.
The same is true in relationship.
In relationships though, you talk to understand and be available at tough times. Do this and you will develop a lifelong connection.
My Story
When I joined by job, I was having the belief that I should do my work and contain myself.
No talking to socialize, no observing and no growth.
I denied going to team picnic. This was the moment I had a session with my team manager. He made me understand how networking is the key to growth in corporate life.
The simple act of communicating might open doors which otherwise you didn't knew existed.
Now I talk more, listen more and see advice whenever I get the opportunity. I am making friends which will help me if I need any hidden job opportunities. Observing them and opening up, I learnt how to climb the ladder fast.
Your Turn
Don't let hesitation take away with you your success. Talk and open up the doors for you.
When people will know you, you will grow with them together.
In relationships, make sure you listen and be present when the times are tough. Those who do so are the ones who make life long relationship.
How else can you grow in your career and life?
About the Author
Rohan Bhardwaj is a Physics graduate. He loves to observe, learn and teach. Connect with him for life, love, relationship and everything in between. He blogs at www.rohanbhardwaj.com.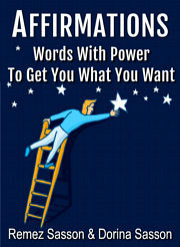 The eBook about Affirmations
Learn how to improve your life with positive statements