The 'Calm Your Mind' Bundle – 15% Off
3 eBooks for Inner Peace and a Stress-Free Life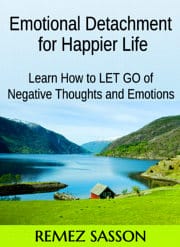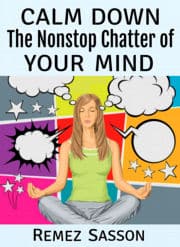 A collection of 3 eBooks that complement each other!
Discover how to stop taking things personally, calm the chatter of your mind, and enjoy inner peace.
Buy a Bundle of 3 eBooks and Get 15% Discount!
Instead of buying each eBook separately, buy all 3 together and get 15% discount.
145 pages PDF eBook. Immediate download.
Do you wish to learn how to let go and stay poised in stressful situations?
Discover how to stop taking everything personally and becoming upset by what people say and do.
Maintain a state of calmness and self-control when handling your daily affairs of life and in your interactions with people.
Avoid dwelling on distressing or unpleasant events from your past and reliving them in your mind over and again.
And much more!
126 pages PDF eBook. Immediate download.
Do you wish to learn to calm down the endless chatter of your mind?
Discover how to stop overthinking.
Find out how to close the doors and windows of your mind to the thoughts that you do not want.
Learn various meditation techniques to calm your mind and prevent unnecessary and futile thoughts from occupying your attention.
Discover how meditation can awaken inner peace that leads to happiness and bliss.
These are just a few of the topics you will learn about.
112 pages PDF eBook. Immediate download.
Do you wish to be able to let go of the past and its unpleasant memories?
Are you seeking ways get rid of nervousness, anger, unhappiness and agitated feelings?
Do you want to become more content, composed and optimistic?
Do you wish to enjoy tranquility, inner peace, happiness, and a calm mind?
This book will show you how to do that.
Easy Access on Any Computer, Tablet or Smartphone
You can download the book immediately after purchase and read it anytime, anywhere, without the need for Internet access.
You can read it on your computer, tablet, and smartphone.
14 Days 100% Money Back Guarantee
If after reading the book and following the instructions you are not entirely satisfied, just let us know within 14 days of your purchase, and we will refund your money.
The 'Calm Your Mind' Bundle
3 eBooks. Immediate download.
Your purchase will appear on your bank statement as "PAYHIP* SUCCESSCO".
Total price of the books if bought separately $54.97
Price after discount $46.72
Payment through PayPal or by credit card from our bookstore on Payhip.com.
About the Author
Remez Sasson is the author and creator of SuccessConsciousness.com. He has been studying and practicing various personal growth techniques for many years. He writes books and articles to help people improve their life, achieve success, gain inner strength and inner peace, and become more positive and happy.
Support
Contact us, if you have any questions, require assistance, or need a new download link.
After payment, you will be directed to a special download page, where you can instantly download your eBook. You will also receive an email notification with the download link.