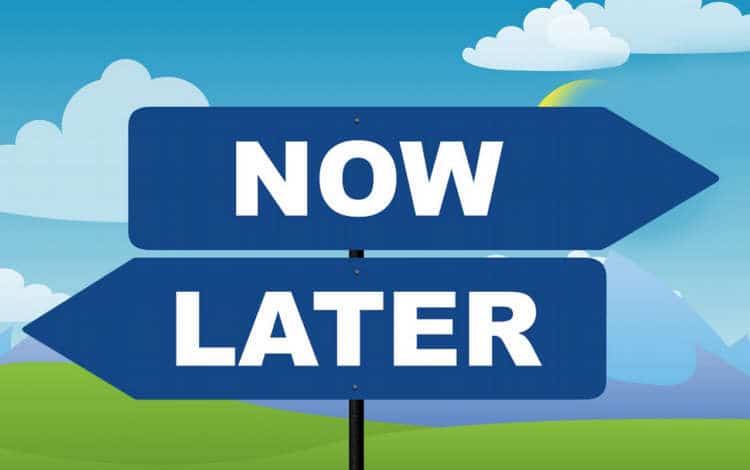 Do you struggle with procrastination or a lack of focus in life?
Are you sick and tired of waking up in the morning full of hopes for things you want to complete… but by the time you go to bed they haven't been done?
Would you like the ability to get important tasks complete without ever putting them off?
If so, then you need to keep reading. In this article I'm going to teach you three of the most effective strategies that will help you to stop procrastinating, and empower you to get more done with your life.
Effective Strategies to Stop Procrastinating
Here are 3 strategies that can help you stop putting things off and overcome the tendency to procrastinate.
1 – Create a Daily To-Do List
One of the most effective strategies you can deploy when attempting to beat procrastination is to have a daily to-do list, which lets you know in advance everything you need to complete on any given day.
The benefits of using a to-do list are immense:
You'll waste less time each day, as you know in advance what needs to be completed.
Fighting back against procrastination becomes easier, as you have a clear target to reach.
Important work won't be ignored – with a good to-do list, it becomes almost impossible to forget tasks or duties.
So every night before you go to bed, grab a pen and paper and write down a checklist of tasks you want to complete the following day.
These can be work-related, errands, or personal items like going to the gym or practicing a musical instrument.
But here is where the hard part comes in – whatever you write down on your list, you must ensure you complete by the end of the day. This will condition you to take action, and make personal productivity a habit.
Train your mind to make taking action a habit (by ensuring that you complete your daily to-do list) and you'll never struggle with procrastination again.
2 – Break Tasks Down Into Smaller Chunks
Here's a tip for young players – just about anything you could ever hope to do in life can be broken down into a bunch of different parts.
Use this universal truth to make taking action (and beating procrastination) much easier.
Many times you will procrastinate a task because it seems like too big of a mountain to climb.
However, if you visualize it as a series of smaller steps – and tackle it in the same manner – then you'll soon discover just how much easier it is to get started.
If there's a task you find yourself procrastinating, then go back to the drawing board and look for ways you can break it down into more manageable chunks.
For example, imagine you are putting off a big essay that is due in a week. The scope of what you need to achieve in such a short space of time is terrifying, and you're frozen like a deer in the headlights as you wonder how you will ever manage to finish it.
But what if you start thinking of that essay as a whole bunch of smaller parts?
There's the research – you can polish that off in an evening – and then writing the introduction, which shouldn't take you more than an hour. A day or two will suffice to complete the main argument paragraphs (or you could even break these down into their own mini-tasks).
All that's left now is to write the conclusion and proofread/edit.
As you can see from the above example, when you break tasks down into smaller parts they become so much more manageable. This makes it easier to start, and harder to procrastinate.
3 – Prepare Properly to Prevent Poor Performance (and Procrastination)
When I was in high school, I had a history teacher who loved reminding the class "proper preparation prevents poor performance" (his so-called Five P's strategy).
He was absolutely, totally, resoundingly right.
Proper preparation does prevent poor performance. And proper preparation can also prevent procrastination.
One of the biggest causes of procrastination is the fear of failure (or, at the very least, the fear of not doing as well as you had hoped … which is most likely to be a problem if you are a perfectionist).
When you fear failure and its consequences, you become naturally inclined to procrastinate.
This is because procrastination is a cathartic means of avoiding the potential to fail. Your mind tells you that if you put off a task you can't be seen to fail it, and therefore, you can avoid any of the negative consequences.
So what's the solution?
You need to prepare adequately for any task you want to undertake.
When you know you've prepared properly, you can then minimize the risk of poor performance. In turn, you will be inclined to take action and get things done, thereby beating procrastination.
What constitutes adequate preparation will vary depending on the task(s) you need to complete. But whatever it is you want to do – and avoid procrastinating – you should arm yourself with the tools, resources, and knowledge you need to complete it.
Conclusion
To recap, in this article you have learned a number of effective techniques that will help you to defeat procrastination and manage your time better.
However, the usefulness of any of these strategies depends on one factor – your willingness to force yourself to take action.
I've provided you with the tools, but it's up to you to finish the job. Use the lessons you have learned today, in conjunction with your own desire to achieve great things in life, and banish procrastination forever.
About the Author
James Frankton writes on time management issues, and beating procrastination at his blog www.whyamilazy.com/