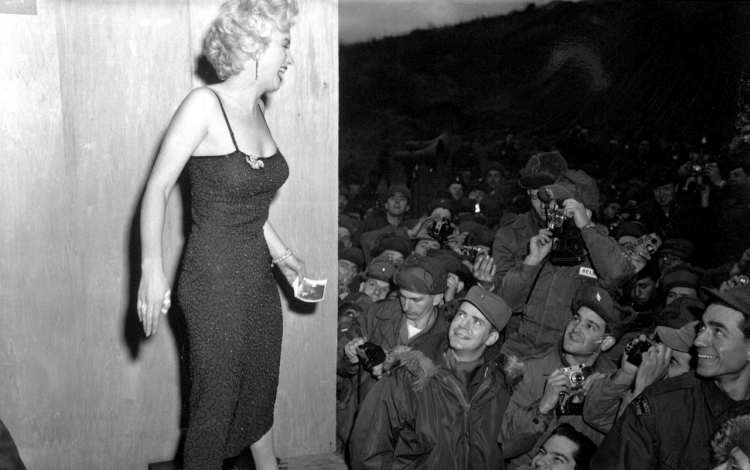 We have compiled for you some of the most famous Marilyn Monroe quotes on beauty, love, women and life.
We hope you enjoy reading them.
Born in 1926, Marilyn Monroe is considered to be one of the most famous and beautiful actresses of all times.
Some of Marilyn Monroe famous films are 'The Misfits', 'Let's Make Love', 'Some Like It Hot', 'There's No Business Like Show Business', 'How to Marry a Millionaire', 'Gentlemen Prefer Blondes', and 'All About Eve'.
Marilyn Monroe Beauty and Love Quotes
A collection of Marilyn Monroe quotes about beauty, love, women and life.
"I'm very definitely a woman and I enjoy it."
"Keep smiling, because life is a beautiful thing and there's so much to smile about."
"I just want to be wonderful."
"Boys think girls are like books, If the cover doesn't catch their eye they won't bother to read what's inside."
"All little girls should be told they are pretty, even if they aren't."
"The real lover is the man who can thrill you by kissing your forehead or smiling into your eyes or just staring into space."
"A wise girl knows her limits, a smart girl knows that she has none."
"Your clothes should be tight enough to show you're a woman but loose enough to show you're a lady."
"I could never pretend something I didn't feel. I could never make love if I didn't love, and if I loved, I could no more hide the fact than change the color of my eyes."
"We are all stars but we must learn how to shine."
"Love and work are the only two real things in our lives. They belong together, otherwise it is off. Work is in itself a form of love."
"If you can make a woman laugh, you can make her do anything.
"So keep your head high, keep your chin up, and most importantly, keep smiling, because life's a beautiful thing and there's so much to smile about."
"To all the girls that think you're fat because you're not a size zero, you're the beautiful one, its society who's ugly."
Visit our bookstore! Life-changing books are awaiting you there.
"A girl doesn't need anyone who doesn't need her."
"A man is more frank and sincere with his emotions than a woman. We girls, I'm afraid, have a tendency to hide our feelings."
You might also like reading:
Marilyn Monroe Quotes about Life, Beauty and Love
Love and Being in Love Quotes
More of Marilyn Monroe Beauty and Love Quotes
Here are some more quotes for you.
"A wise girl knows her limits, a smart girl knows that she has none."
"I dress for men. A woman looks at your clothes critically. A man appreciates them."
"A wise girl kisses but doesn't love, listens but doesn't believe, and leaves before she is left."
"Before marriage, a girl has to make love to a man to hold him. After marriage, she has to hold him to make love to him."
"Men who think that a woman's past love affairs lessen her love for them are usually stupid and weak."
"The way you carry yourself is influenced by the way you feel inside. You must feel attractive to be attractive."
"Frankly, I've never considered my own figure so exceptional; until quite recently, I seldom gave it any thought at all."
"Be real, be yourself, be unique, be true, be honest, be humble, be happy."
"I don't mind being burdened with being glamorous and sexual. Beauty and femininity are ageless and can't be contrived, and glamour, although the manufacturers won't like this, cannot be manufactured. Not real glamour; it's based on femininity."
"What do I wear in bed? Why, Chanel No. 5, of course."
"I never wanted to be Marilyn — it just happened. Marilyn's like a veil I wear over Norma Jeane."
"I love a natural look in pictures. I like people with a feeling one way or another – it shows an inner life. I like to see that there's something going on inside them."
Quotes Directory >> Marilyn Monroe Quotes