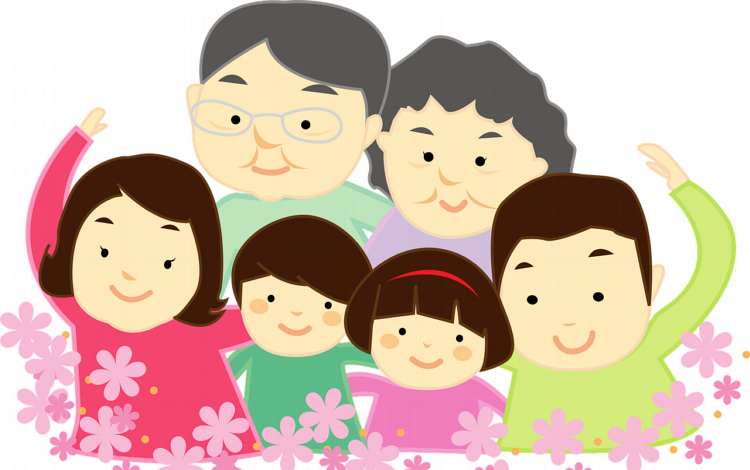 Are you looking for great inspirational family quotes?
Here are some beautiful family quotes, gathered from various sources.
You will find here quotes about family love, short family quotes, and also funny and cute family quotes.
Family is important to all people, even if sometimes there are misunderstandings, disputes and disagreements.
Sometimes, the relationships within the family are complicated. There might be hurt feelings and resentments. Yet, even if there is anger and separation, there is still love inside that can mend broken relations.
Family is like a haven, where ships go for protection from the storm. Family is where you feel protected and safe.
May these quotes about family bring love, understanding, and improvement of your relationship with your family.
Family Quotes and Sayings
"Family means no one gets left behind or forgotten." – David Ogden Stiers
"Some of the most important conversations I've ever had occurred at my family's dinner table." – Bob Ehrlich
"Other things may change us, but we start and end with the family." – Anthony Brandt
"Being a family means you are a part of something very wonderful. It means you will love and be loved for the rest of your life." – Lisa Weed
"My family is my life, and everything else comes second as far as what's important to me." – Michael Imperioli
"Call it a clan, call it a network, call it a tribe, call it a family. Whatever you call it, whoever you are, you need one." –Jane Howard
"What can you do to promote world peace? Go home and love your family." – Mother Teresa
"Family and friends are hidden treasures, seek them and enjoy their riches." – Wanda Hope Carter
"Nothing is better than going home to family and eating good food and relaxing." – Irina Shayk
"The bond that links your true family is not one of blood, but of respect and joy in each other's life." – Richard Bach
"There is no doubt that it is around the family and the home that all the greatest virtues, the most dominating virtues of human, are created, strengthened and maintained." – Winston Churchill
Quotes about Family
"A man should never neglect his family for business." – Walt Disney
"If you are too busy to enjoy quality time with your family, then you need to re-evaluate your priorities." – Dave Willis
"Everyone needs a house to live in, but a supportive family is what builds a home." – Anthony Liccione
"Families are the compass that guides us. They are the inspiration to reach great heights, and our comfort when we occasionally falter." – Brad Henry
"To us, family means putting your arms around each other and being there." – Barbara Bush
"When trouble comes, it's your family that supports you." – Guy Lafleur
"In family life, love is the oil that eases friction, the cement that binds closer together." – Friedrich Nietzsche
Family Love Quotes
"I sustain myself with the love of family." – Maya Angelou
"Being a family means you are a part of something very wonderful. It means you will love and be loved for the rest of your life." – Lisa Weed
"It didn't matter how big our house was; it mattered that there was love in it." – Peter Buffett
"So much of what is best in us is bound up in our love of family, that it remains the measure of our stability because it measures our sense of loyalty." – Haniel Long
"The most important thing in the world is family and love." – John Wooden
"Home should be an anchor, a port in a storm, a refuge, a happy place in which to dwell, a place where we are loved and where we can love." – Marvin J. Ashton
Short Family Quotes
"The family is one of nature's masterpieces." – George Santayana
"A happy family is but an earlier heaven." – George Bernard Shaw
"Life is beautiful. It's about giving. It's about family." – Walt Disney
"Families are like fudge–mostly sweet, with a few nuts." – Les Dawson
"I have a wonderful shelter, which is my family." – Jose Carreras
Funny Family Quotes
There can be fun and humor in family life. Here are humorous and funny family quotes that bring a smile to the face.
"Being part of a family means smiling for photos." – Harry Morgan
"Family makes a house a home." – Jennifer Hudson
"I think the family is the place where the most ridiculous and least respectable things in the world go on." – Ugo Betti
"I grew up with six brothers. That's how I learned to dance -waiting for the bathroom." – Bob Hope
"Having a child makes you a parent; having two, you are a referee." – David Frost
"I realized my family was funny, because nobody ever wanted to leave our house." – Anthony Anderson
"All of us have moments in our lives that test our courage. Taking children into a house with white carpet is one of them." – Erma Bombeck
"The other night I ate at a real nice family restaurant. Every table had an argument going." – George Carlin
"Happiness is having a large, loving, caring, close-knit family in another city."
Cute Family Quotes
"Rejoice with your family in the beautiful land of life." – Albert Einstein
"To understand your parents' love, you must raise children yourself." – Chinese Proverb
"At home you can do crazy things without being judged." – Anonymous
"where there is a family, there is a home." – Anonymous
"The family is one of nature's masterpieces." – George Santayana
"I have learned that to be with those I like is enough." –Walt Whitman
Thank you for reading! To support my website and work, please click on the button below! Thanks in advance!
Buy Me a Coffee