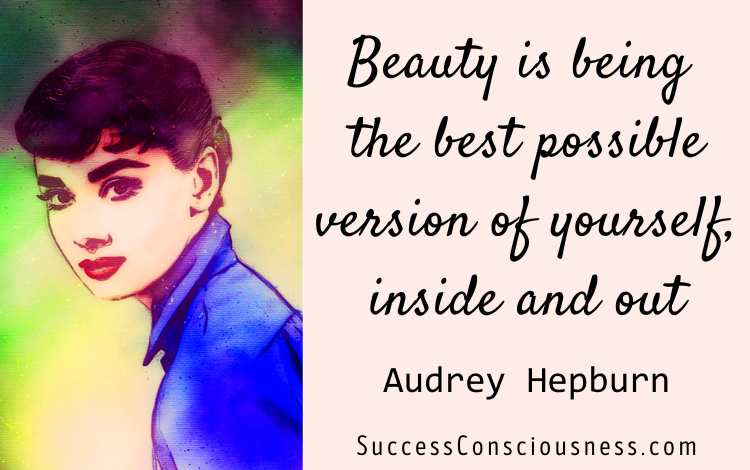 We have gathered here for you, some of the best of Audrey Hepburn quotes. We hope you will enjoy reading them.
Audrey Hepburn was a British actress, dancer, model and humanitarian. She was Born in Brussels, on May 4th 1929, and studied classical ballet as a child.
Hepburn starred in a number of successful films, Sabrina (1954), with Humphrey Bogart and William Holden, Funny Face (1957), a musical in which she sang. The Nun's Story (1959), Breakfast at Tiffany's (1961), the thriller-romance Charade (1963), with Cary Grant, and the musical My Fair Lady (1964).
Audrey Hepburn received the Academy Award, a Golden Globe, three BAFTA Awards for Best British Actress in a Leading Role, BAFTA's Lifetime Achievement Award, Cecil B. DeMille Award, the Screen Actors Guild Life Achievement Award, and the Special Tony Award.
Later in life, Hepburn devoted much of her time to UNICEF, for which, she had contributed since 1954. Hepburn was awarded the Presidential Medal of Freedom for her work as a goodwill ambassador.
Audrey Hepburn Quotes
"Beauty is being the best possible version of yourself, inside and out."
"Walk with the knowledge that you are never alone."
"Paris is always a good idea."
"If I get married, I want to be very married."
"I believe that tomorrow is another day and I believe in miracles."
"The beauty in a woman is not in the clothes she wears, the figure that she carries, or the way she combs her hair. The beauty of a woman is seen in her eyes, because that is the doorway to her heart; the place where love resides."
"For beautiful eyes, look for the good in others; for beautiful lips, speak only words of kindness; and for poise, walk with the knowledge that you are never alone."
"Let's face it, a nice creamy chocolate cake does a lot for a lot of people; it does for me."
"I love people who make me laugh. I honestly think it's the thing I like most, to laugh. It cures a multitude of ills. It's probably the most important thing in a person."
"Everything I learned I learned from the movies."
"I never thought I'd land in pictures with a face like mine."
"Living is like tearing through a museum. Not until later do you really start absorbing what you saw, thinking about it, looking it up in a book, and remembering – because you can't take it all in at once."
More Enchanting Audrey Hepburn Quotes
"Life is a party. Dress for it."
"I may not always be offered work, but I'll always have my family."
"You can tell more about a person by what he says about others than you can by what others say about him."
"Water is life, and clean water means health."
"There is a moral obligation that those who have should give to those who don't."
"I never think of myself as an icon. What is in other people's minds is not in my mind. I just do my thing."
"For my whole life, my favorite activity was reading. It's not the most social pastime."
"I have no illusions about my looks. I think my face is funny."
"People, even more than things, have to be restored, renewed, revived, reclaimed, and redeemed; never throw out anyone."
"I believe, every day, you should have at least one exquisite moment."
Audrey Hepburn Quotes on Life
"If I'm honest, I have to tell you I still read fairy tales and I like them best of all."
"I'm not a born actress, as such, I care about expressing feelings."
"I don't take my life seriously, but I do take what I do – in my life – seriously."
"Why change? Everyone has his own style. When you have found it, you should stick to it."
"When you have nobody you can make a cup of tea for, when nobody needs you, that's when I think life is over."
Audrey Hepburn Quotes on Love
"I was born with an enormous need for affection, and a terrible need to give it."
"Actually, you have to be a little bit in love with your leading man and vice versa. If you're going to portray love, you have to feel it. You can't do it any other way. But you don't carry it beyond the set."
"We all want to be loved, don't we? Everyone looks for a way of finding love. It's a constant search for affection in every walk of life. "
Audrey Hepburn Quotes on Happiness
"I believe in manicures. I believe in overdressing. I believe in primping at leisure and wearing lipstick. I believe in pink. I believe happy girls are the prettiest girls."
"Forgive quickly. Kiss slowly. Love truly. Laugh uncontrollably and never regret anything that made you smile."
"I heard a definition once: Happiness is health and a short memory! I wish I'd invented it, because it is very true."
"The most important thing is to enjoy your life."
"For me the only things of interests are those linked to the heart."
Audrey Hepburn Quotes on Success
"I tried always to do better. Saw always a little further. I tried to stretch myself."
"My greatest ambition is to have a career without becoming a career woman."
"It is too much to hope that I shall keep up my success. I don't ask for that. All I shall do is my best – and hope."
"I've been lucky. Opportunities don't often come along. So, when they do, you have to grab them."
Audrey Hepburn Quotes on Beauty
"The beauty of a woman is not in a facial mode but the true beauty in a woman is reflected in her soul. It is the caring that she lovingly gives the passion that she shows."
"The beauty of a woman is seen in her eyes, because that is the doorway to her heart, the place where love resides."
"And the beauty of a woman, with passing years only grows!"
"There are more important things than outward appearance. No amount of makeup can cover an ugly personality."
"Elegance is the only beauty that never fades."
Quotes Directory >> Audrey Hepburn Quotes
If you enjoyed reading my articles, you can thank me by clicking on the button below!
Buy Me a Coffee