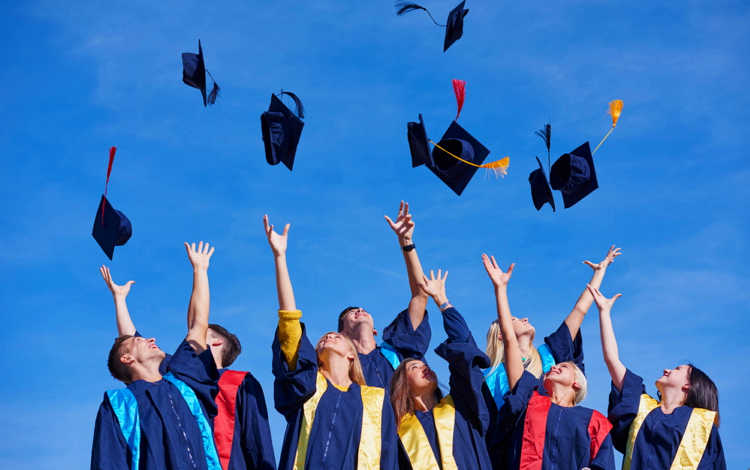 Are you looking for senior quotes to add to your Yearbook? You have arrived at the right place.
Are you a high school graduate? The doors to your future are now open, and you will have to choose where to enter. Which way will you take, and what possibility will you follow?
No matter what you choose to do next, now is the time to celebrate finishing school and having a new start.
What to Write in Your Senior Quotes?
High school graduates share their quotes for their yearbook.
Senior quotes, also called graduation quotes, give students a chance to sum up their academic career in a short message.
Do you ask yourself, "What should I choose as my quote?"
There are several answers to this question:
Write Something that summarizes your experience at the high school.
Write about your experience at school.
You can choose to share your attitude about your school and teachers.
Thank your teachers for helping you.
Show your gratitude to your parents.
Share your attitude about your friends.
Write about your difficulties and how you overcame them.
Write about your future plans.
You can write a funny quote, something entertaining, or something deep.
In the example quotes below, you will find what high school graduates think and how they describe their experiences.
These quotes can give you ideas on how to phrase your own quote. They can give an idea of what to write for your senior quote.
Inspirational Best Senior Quotes
"I haven't even begun to peak." –Dennis Reynolds
"I'm a senior, but I stay fresh man." –Martin Alvarado
"Don't judge each day by the harvest you reap but by the seeds that you plant." –Robert Louis Stevenson
"The day is what you make it! So why not make it a great one?" –Steve Schulte
"The future is a hundred thousand threads, but the past is a fabric that can never be rewoven." –Orson Scott Card
"My wish for you is that this life becomes all that you want it to. Your dreams stay big, your worries stay small and that you never need to carry more than you can hold." –Rascal Flatts
"Education is important, but big biceps are more important." –Hugh Vo
"It is better to fail in originality than to succeed in imitation." –Herman Melville
"Your life is your story, and the adventure ahead of you is the journey to fulfill your own purpose and potential." –Kerry Washington
"Life isn't how to survive the storm; it's about how to dance in the rain." – Taylor Swift
Visit our bookstore! Life-changing books are awaiting you there.
"It's hard to soar with the eagles when you're surrounded by turkeys." –Adam Sandler
"The fireworks begin today. Each diploma is a lighted match, each one of you is a fuse." –Ed Koch
"You get to consciously decide what has meaning and what doesn't. You get to decide what to worship." –David Foster
"Don't ever confuse the two, your life and your work. The second is only part of the first." –Anna Quindlen
"Now that you've graduated, just remember: Bosses don't usually accept notes from your mother." –Melanie White
"I'm a senior, but I stay fresh man." –Martin Alvarado
"Now go, and make interesting mistakes, make amazing mistakes, make glorious and fantastic mistakes." –Neil Gaiman
"The road to success is always under construction." –Lily Tomlin
"If learning is like a sponge, don't ever stop soaking it up. Never stop learning." –Catherine Pulsifer
"I'm looking forward to the future, and feeling grateful for the past." –Mike Rowe
"Don't wish it were easier. Wish you were better." –Jim Rohn
"Perfection is not attainable, but if we chase perfection we can catch excellence." –Vince Lombardi
"Don't just get involved. Fight for your seat at the table. Better yet, fight for a seat at the head of the table." –Barack Obama
"A wise man will make more opportunities than he finds." –Francis Bacon
Visit our bookstore! Life-changing books are awaiting you there.
"Your certification is in your degree. Think of it as your ticket to change the world." –Tom Brokaw
Funny Senior Quotes
Here is a selection of funny quotes.
"I want to thank Google, Wikipedia, and to whoever invented copy and paste. Thank you." –Stephanie Flores
"My computer screen is brighter than my future." –Katia Perez
"What lies behind us and what lies ahead of us are tiny matters compared to what lives within us."> –Henry David Thoreau
"If you think you are too small to be effective, you have never been in the dark with a mosquito."" –Betty Reese
"Life has no remote. Get up and change it yourself."" –Mark A. Cooper
"The only thing that ever sat its way to success was a hen." –Sarah Brown
"I made my friends laugh. Maybe I can be a comedian." –Anonymous
Senior Year Quotes that Motivate
"Be who you are and say what you feel, because those who mind don't matter and those who matter don't mind." –Dr. Seuss
"It is absolutely still possible to make a difference." –Michelle Obama
"Start where you are. Use what you have. Do what you can." –Arthur Ashe
"Believe and act as if it were impossible to fail." –Charles Kettering
"There is no script. Live your life. Soak it all in." –Dick Costolo
"You do have a future. There is light at the end of that inky black tunnel." –Willow Cross
"The old rules are crumbling and nobody knows what the new rules are. So make up your own rules." –Neil Gaiman
"Some people fail and some people success. I belong to the people that success." –Anonymous
Senior Quotes about Success
"Why don't you focus on where you're going and less on where you came from?" –Amy Harmon
"Opportunities don't happen. You create them." –Chris Grosser
"Real courage is holding on to a still voice in your head that says, 'I must keep going.' It's that voice that says nothing is a failure if it is not final." –Cory Booker
"Don't underestimate the power of your dreams." –Corinna Kong
"If you don't go after what you want, you'll never have it. If you don't ask, the answer is always no. If you don't step forward, you're always in the same place." –Nora Roberts
"Just remember, you can't climb the ladder of success with your hands in your pockets." –Arnold Schwarzenegger
"Do not follow where the path may lead. Go, instead, where there is no path and leave a trail." –Ralph Waldo Emerson
"Successful and unsuccessful people do not vary greatly in their abilities. They vary in their desires to reach their potential." –John Maxwell
"Success doesn't rush. The greatest reward is the journey!" –Jeff Moore
More Good Senior Quotes Examples
Are you looking for a few additional senior quotes? Read the following list, and feel free to use any of the quotes that you find suitable.
"This was the time I got some of my best friends."
"Don't stop thinking about tomorrow. It'll soon be here."
"How can I sum up my amazing time here in such a short space?"
"I wish good luck and success to all of the seniors!"
"No more homework and no more books!"
"These were the years that made me wiser."
"I am now moving forward, to greater things.
"There were difficult times and there were pleasant times."
"I will miss my teachers who helped me so much."
"It was a time of learning, having fun, and meeting friends."
"Now It is the time to start conquering the world."
"I hope what I learned will help me in my life."
"These were boring years. I am happy they are over."
"I wonder where I will be ten years from now."
"Dear future, here I come to make big changes."
"Can I please stay another year?"
"True life is starting now. I need to look at the map."
"A big thank you to my friends, family, and teachers for making me who I am today."
"The saddest thing in life is wasted talent."
"If you follow your dreams, you are capable of anything."
"You taught me to trust myself and i thank you for that."
"You helped me discover my talents."
"Goodbye old boyfriends. Hello new boyfriends!"
"You can't move forward without saying goodbye to the past."
"Goodbye past, hello future!"
"Life is going to be different know."
"I am now more mature and wise."
"I will show my teachers that I can reach far and build my business."
"Now I have all the time at my disposal."
"I am looking forward for a good future."
"My good new life is beginning now."
"Goodbye school, hello world, here I come."
"I am going to learn to be the master of my life."
"I am going to improve the skills I gained at school."
"My teachers have done a great job with me."
"I choose happiness as my motto in life."
"My wonderful life are beginning now."
Concluding Words and Some Advice
Do not forget to write your own words, if you are a new graduate. They will appear in the senior yearbook quotes, next to the yearbook photos.
How would you announce your graduation? Did you know there are beautiful graduation announcement templates you can find on the web?
Anything you write will enter into your yearbook and would always be there. It will speak about you. Some, might write funny yearbook quotes, and others, more serious ones.
Display confidence and self-esteem at this important time in your life, and start making plans for the future.
Are You Looking for Tools to Help You Build Your Future?
Manifest and Achieve Whatever You Want, will teach you about the law of attraction and how to achieve dreams and goals.
Focus Your Attention will teach you how to improve your focus and concentration skills.
Quotes Directory >> Senior Quotes
Image source – DepositPhotos