Travelling brings excitement, reduces stress, evokes creativity, and breaks monotony.
When you get exhausted of following your daily life schedule, you plan to go on a vacation for some refreshment.
Beautiful monuments, sandy beaches, gigantic castles, elegant spas, lavish nightclubs, scrumptious food, and splendid hotels start to bubble up on your mind as you begin to plan your trip.
Travelling undoubtedly gives stress-free experience, but the planning stage is not easy and stress free at all.
There are a lot of things to do before you get on the flight, such as deciding the vacation spot, packing, arranging tickets, making the budget, and listing out things to buy.
The planning stage is hectic but crucial. You have to make sure that you carry all necessary items with you so that you leave no stone unturned to paint the town red.
More often than not, people gain positive experience during travelling.
It becomes stressful when your health goes down, your luggage is snitched, or you have had another bad experience. It is imperative that you consider every factor before booking your flight tickets so that you do not rue the day.
Ways to Tackle Travel Stress and Anxiety
DO NOT SPEND MORE THAN YOUR POCKET ALLOWS
First off, you should create a budget. You should set a target limit of how much you want to spend on your trip.
Money plays a big role in every aspect of life. Make sure you do not dip into all of your savings in your travelling trip in case you encounter an unexpected expenditure when you come back your home. Your savings must have worth of one-month salary.
Make a list of places where you would like to go. Estimate the total cost of your trip. If you want to buy a travel package, ask your travel agent about the total cost of each suggested vacation spots. This will help you choose the spot that fits your budget.
Book you travel at least one month in advance to save money. Your travel will be smooth and pleasant if you have saved in the beginning. Do online research to compare the prices. Read reviews and ratings on the websites to figure out the quality.
Careful financial planning will not let you down. Your travelling experience will be pleasant as you long as you spend as per your budget, or else you will end up with taking out a short-term loan to meet your regular expenses and you are likely to fall in a debt web.
PACK SMARTLY
Most of the people find packing very complicated and tedious. First, you should list out things that you will carry with you such as clothing, camera, and the like. Then, you make a list of things you will buy at your vacation spot.
Choose things wisely, because the weight of luggage should not exceed than the standard weight. One bag should consist of your clothing and another small bag should consist of a video camera or camcorder.
Pack your luggage before a few days to allow you some time to recall a thing that you need and you have forgotten to keep it in your bag. The last minute packing is hectic and extremely tedious. Make sure that you have packed everything two days before your flight takes off.
SAFETY CONCERNS
Safety concerns are intrinsic to consider when you are going to another city or country. No place is 100% safe and secure. Of course, you will not go to any place that has experienced terrorist activities frequently, but sometimes a place makes someone uneasy for other reasons.
Before you finalize the destination for your vacation, you should check what travelers have recently updated about the safety culture. Teasing and theft are very common, and they might destroy your vacation.
To avoid being caught in such circumstances, you should look for recent updates and advisory from travel authorities.
Be aware of your surroundings.
Stay alert throughout the journey.
Keep copies along with your original documents like passport and Ids.
Carry only required things when you are out of your hotel room.
BE COMFORTABLE
Wear comfortable shoes and clothes throughout your journey.
If the place is warm, make sure you wear loose clothes and carry water bottles to prevent you from dehydration and exhaustion.
Comfortable shoes will not hurt your feet if you have to walk a long distance. If you are going to a colder place, you should wear extra layers.
TAKE CARE OF YOUR BODY
Since you are not habitual to withstand weather of any country except your home country, you may catch cold, cough and fever. Do not forget to carry medicines with you. Otherwise, it will take a toll on your health and you will end up with huge medical bills.
If you do exercise daily, continue this habit even during your trip.
Brisk walk of 30 minutes in fresh air will be enough to keep infection at bay.
Take vitamins and protein shakes with you.
Make sure that you get quality sleep before going on a trip.
Do not take too much stress and it is better if you stay away from situations that cause you stress.
Eat a salubrious meal before and during your trip. Nutritious food will maintain the sound energy level of your body and prevent you from stress and diseases.
Do not prefer junk food like potato chips as they cause bloating and indigestion. Do not eat expensive flight food if you feel like it will not agree with your stomach.
STAY POSITIVE
You will have a good travelling experience if you think positive. Do not let negative energies hit your mind. For instance, "what if you fall ill there?" what if you are mugged?" etc. Travelling will be much less stressful if you have a positive attitude.
Whether you have a staycation or make a trip abroad, aforementioned tips will help you have your holiday with full of joy. Plan in advance, yet carefully, so that you get a pleasant experience from your trip.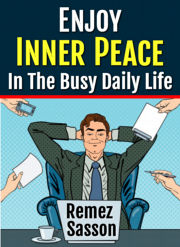 Release stress and tension!
Stop being troubled by fears and worries!
Discover how to enjoy inner peace in daily life