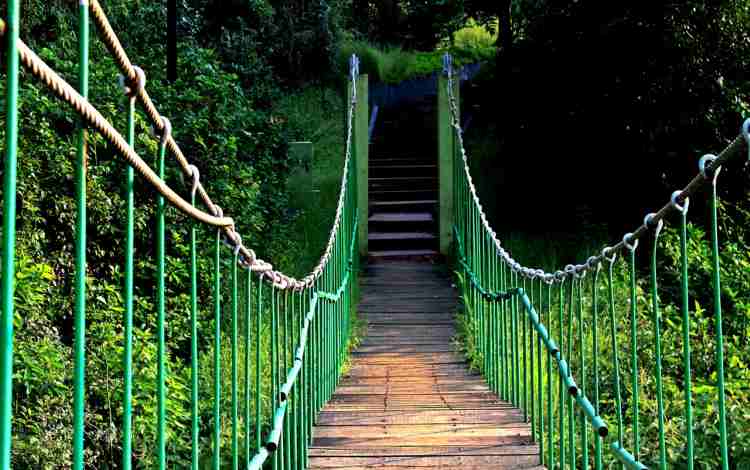 'Bridge', is an entertaining video with a moral behind it.
It is a visual story about four animal trying to cross a bridge. The bridge is narrow, so only one can pass, and the other has to make way for the other animal.
However, the ego wins, and the two first animals prevent each other from crossing the bridge, and pay heavily for that. The other two are more polite and considerate, so the cross the bridge.
The moral behind this story revolves around focusing on one's ego, and therefore, losing.
The story emphasizes the fact that disagreements, inconsiderateness, and lack of collaboration can lead to disaster.
The story is also about pride, obstinacy and lack of compromise, and what they lead to.

Source: Vimeo.
Music by Greg Gauba.
Pride, Obstinacy and Lack of Compromise
Being too proud and obstinate can lead to problems in life.
There are certain situations, where compromise, swallowing your pride, and cooperating with others is the right approach. This does not mean that you are weak. It means that you are wise.
Cooperation helps both sides, especially in difficult and dangerous situations, as shown in this video.
Obstinacy does not indicate inner strength. Obstinacy is not an expression of true willpower or inner strength, unless it is accompanied by common sense.
The first two animals in this video showed obstinacy. They did not cooperate with each other. They did not help each other to cross the bridge, and for this, they paid a heavy price of falling down.
On the other hand the other two animals, after a brief moment of obstinacy realized what they where doing, and one of them gave in so both can cross the river.
This is the right attitude to follow in real life, whether it is on the road, while driving, at the store, at work, with friends, or within the family.
Such a behavior leads to respect, happiness and cooperation. In this way, everyone is a winner.
Another traits of character one should have in order to conduct a happy life are kindness and generosity.
Kindness means being polite, generous and considerate.
Being kind means speaking politely, helping other people and complimenting them when appropriate.
I would like to end this post with a few quotes about kindness and generosity.
Kindness and Generosity Quotes
"Kind words do not cost much. Yet they accomplish much."Blaise Pascal
"Constant kindness can accomplish much. As the sun makes ice melt, kindness causes misunderstanding, mistrust, and hostility to evaporate." –Albert Schweitzer
"When we feel love and kindness toward others, it not only makes others feel loved and cared for, but it helps us also to develop inner happiness and peace." –The Dalai Lama
"No act of kindness, no matter how small, is ever wasted." -Aesop
"Generosity, kindness, honesty, humor – makes us truly rich." -Waylon Lewis
"Extend yourself in kindness to other human being wherever you can." -Oprah Winfrey
More kindness and generosity quotes.