Leadership means the ability to inspire and motivate people and to navigate them to a certain goal.
Good leadership means the ability to lead people to greater accomplishments, to improvement, and to success.
Leadership require inner strength, confidence and courage.
Leadership requires courage, assertiveness, focus and the ability to think big.
Leadership manifests in all walks of life, not only in politics or the in army. There are industry leaders, there are teachers, writers, sportsmen, and media people who are leaders, and whom people follow.
Here, we have collected for you quotes and sayings on leadership that you will find inspiring and motivating.
Inspirational Leadership Quotes
"If your actions inspire others to dream more, learn more, do more and become more, you are a leader." –John Quincy Adams
"Good leaders must first become good servants." –Robert Greenleaf
"A leader takes people where they want to go. A great leader takes people where they don't necessarily want to go but ought to be." –Rosalynn Carter
"I cannot give you the formula for success, but I can give you the formula for failure: which is: Try to please everybody." –Herbert B. Swope
"The very essence of leadership is that you have to have vision. You can't blow an uncertain trumpet." –Theodore M. Hesburgh
"A good leader takes care of those in their charge. A bad leader takes charge of those in their care." –Simon Sinek
"The art of leadership is saying no, not saying yes. It is very easy to say yes." –Tony Blair
"The task of leadership is not to put greatness into humanity, but to elicit it, for the greatness is already there." –John Buchan
"If you do not look at things on a large scale, it will be difficult to master strategy." –Miyamoto Mursashi
"Leadership is action, not position." –Donald H. McGannon
"To be able to lead others, a man must be willing to go forward alone." –Harry Truman
"The word impossible is not in my dictionary." –Napoleon Bonaparte
"A leader is one who knows the way, goes the way and shows the way." –John C. Maxwell
"The great leaders are like the best conductors – they reach beyond the notes to reach the magic in the players." –Blaine Lee
"Leadership is lifting a person's vision to high sights, the raising of a person's performance to a higher standard, the building of a personality beyond its normal limitations." –Peter Drucker
"Don't follow the crowd, let the crowd follow you." –Margaret Thatcher
"Leadership: the art of getting someone else to do something you want done because he wants to do it." –Dwight D. Eisenhower
"A leader is most effective when people barely know he exists. When his work is done, his aim fulfilled, his troops will feel they did it themselves." –Lao Tzu
"We must become the change we wish to see in the world." –Mahatma Ghandhi
"If you go through life convinced that your way is always best, all the new ideas in the world will pass you by." –Morita Akio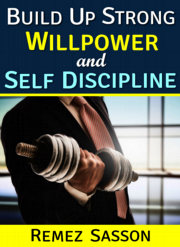 Overcome weakness, indecisiveness & procrastination!
Start building your inner strength!
Discover how to build up strong willpower and discipline
Positive Leadership Quotes
"You don't have to hold a position in order to be a leader." –Anthony J. D'Angelo
"I've learned that people will forget what you said, people will forget what you did, but people will never forget how you made them feel." –Maya Angelou
"A leader has the vision and conviction that a dream can be achieved. He inspires the power and energy to get it done." –Ralph Nader
"The most common way people give up their power is by thinking they don't have any." –Alice Walker
"Leadership is action, not position." –Donald H. McGannon
"A good leader is a person who takes a little more than his share of the blame and a little less than his share of the credit." –John C. Maxwell
"Control is not leadership; management is not leadership; leadership is leadership. If you seek to lead, invest at least 50% of your time in leading yourself – your own purpose, ethics, principles, motivation, conduct. Invest at least 20% leading those with authority over you and 15% leading your peers." –Dee Hock
"Efforts and courage are not enough without purpose and direction." –John F. Kennedy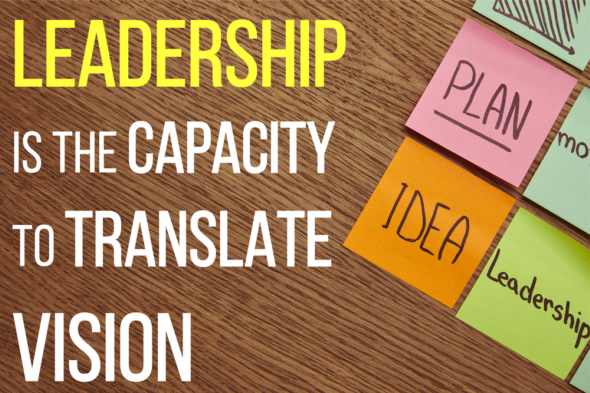 "Leadership is the capacity to translate vision into reality." – Warren Bennis
"A good objective of leadership is to help those who are doing poorly to do well and to help those who are doing well to do even better." –Jim Rohn
"I cannot give you the formula for success, but I can give you the formula for failure, which is: Try to please everybody." –Herbert Swope
"The function of leadership is to produce more leaders, not more followers." –Ralph Nader
"It's fine to celebrate success but it is more important to heed the lessons of failure." –Bill Gates
"The greatest leader is not necessarily the one who does the greatest things. He is the one that gets the people to do the greatest things." –Ronald Reagan
"Outstanding leaders go out of the way to boost the self-esteem of their personnel. If people believe in themselves, it's amazing what they can accomplish." –Sam Walton
"The task of the leader is to get their people from where they are to where they have not been." –Henry Kissinger
"To have long term success as a coach or in any position of leadership, you have to be obsessed in some way." –Pat Riley
"One of the tests of leadership is the ability to recognize a problem before it becomes an emergency." –Arnold Glasow
"Wise leaders generally have wise counselors because it takes a wise person themselves to distinguish them." –Diogenes of Sinope
"The ability to learn is the most important quality a leader can have." –Sheryl Sandberg
"Leaders must be close enough to relate to others, but far enough ahead to motivate them."J –ohn C. Maxwell
"A leader takes people where they want to go. A great leader takes people where they don't necessarily want to go, but ought to be." –Rosalynn Carter
"Leading people is the most challenging and, therefore, the most gratifying undertaking of all human endeavors." –Jocko Willink
"Leadership is the art of giving people a platform for spreading ideas that work." –Seth Godin
Powerful Leadership Quotes
"The only safe ship in a storm is leadership." –Faye Wattleton
"A leader is a dealer in hope." –Napoleon Bonaparte
"Some people want it to happen, some wish it would happen, others make it happen." –Michael Jordan
"The future belongs to those who believe in the beauty of their dreams." –Eleanor Roosevelt
"Innovation distinguishes between a leader and a follower." –Steve Jobs
"Do not follow where the path may lead. Go instead where there is no path and leave a trail." –Harold R. McAlindon
"Real leadership is leaders recognizing that they serve the people that they lead." –Pete Hoekstra
"Leadership is a matter of having people look at you and gain confidence, seeing how you react. If you're in control, they're in control." –Tom Landry
"Become the kind of leader that people would follow voluntarily, even if you had no title or position." –Brian Tracy
"All of the great leaders have had one characteristic in common: it was the willingness to confront unequivocally the major anxiety of their people in their time. This, and not much else, is the essence of leadership." –John Kenneth Galbraith
"If you don't believe in yourself, why is anyone else going to believe in you." –Tom Brady
Leadership Quotes
Quotes Directory >> Leadership Quotes
Image source – DepositPhotos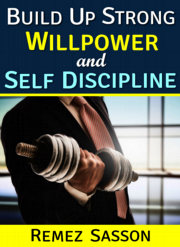 Overcome weakness, indecisiveness & procrastination!
Start building your inner strength!
Discover how to build up strong willpower and discipline
Thank you for reading! To support my website and work, please click on the button below! Thanks in advance!
Buy Me a Coffee