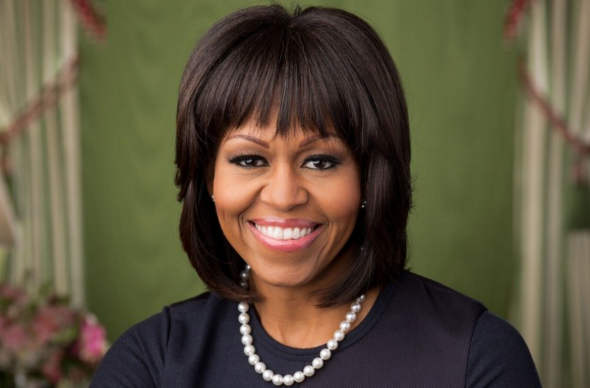 Michelle Obama is an American lawyer and writer. She is married to Barack Obama, the 44th President of the United States, who served as president from 2009 to 2017.
Michelle Obama born on January 17, 1964, and was raised on the South Side of Chicago, Illinois. She graduated at Princeton University and Harvard Law School, and started working at the law firm Sidley Austin, where she met Barack Obama.
The couple married in 1992 and they have two daughters.
Obama worked as an advocate for poverty awareness, education, nutrition, physical activity, and healthy eating.
Here are some of the most inspirational of Michelle Obama quotes. You will find here quotes on education, success, kids and other topics.
Michelle Obama Quotes
"There are still many causes worth sacrificing for, so much history yet to be made."
"I am an example of what is possible when girls from the very beginning of their lives are loved and nurtured by people around them."
"I was surrounded by extraordinary women in my life who taught me about quiet strength and dignity."
""I have learned that as long as I hold fast to my beliefs and values – and follow my own moral compass – then the only expectations I need to live up to are my own."
"We need to do a better job of putting ourselves higher on our own 'to do' list."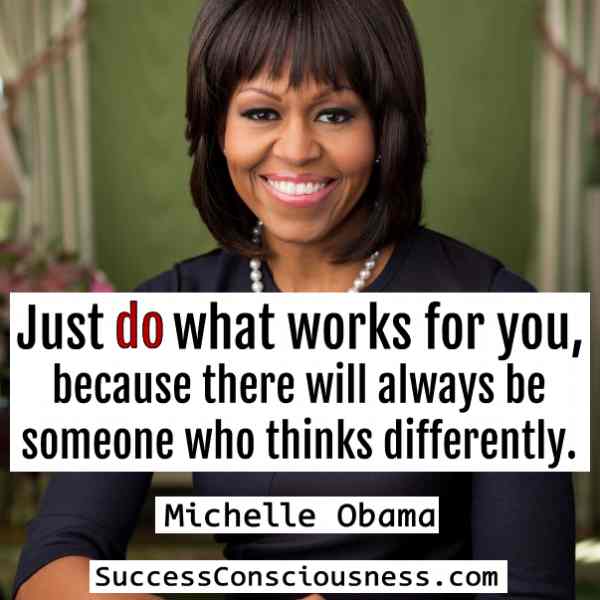 "Just do what works for you, because there will always be someone who thinks differently."
"Exercise is really important to me – it's therapeutic. So if I'm ever feeling tense or stressed or like I'm about to have a meltdown, I'll put on my iPod and head to the gym or out on a bike ride along Lake Michigan with the girls."
"You may not always have a comfortable life and you will not always be able to solve all of the world's problems at once. But don't ever underestimate the importance you can have because history has shown us that courage can be contagious and hope can take on a life of its own."
More Quotes from Michelle Obama
"We're all bombarded with so many dietary messages that it's hard to find time to sort through all this information, but we do have time to take a look at our kids' plates."
"Just try new things. Don't be afraid. Step out of your comfort zones and soar, all right?"
"Sometimes, it's just easier to say yes to that extra snack or dessert, because frankly, it is exhausting to keep saying no. It's exhausting to plead with our kids to eat just one more bite of vegetables."
"We should always have three friends in our lives. One who walks ahead who we look up to and follow; one who walks beside us, who is with us every step of our journey; and then, one who we reach back for and bring along after we've cleared the way."
"Paintings and poetry, music and fashion, design and dialogue, they all define who we are as a people and provide an account of our history for the next generation."
You might like reading Eleanor Roosevelt quotes.
Michelle Obama Quotes on Education
"Through my education, I didn't just develop skills, I didn't just develop the ability to learn, but I developed confidence."
"We started out with very little. But with a lot of hard work and a good education, anything is possible—even becoming President. That's what the American Dream is all about."
"Empower yourselves with a good education."
"Young people, don't be afraid. Be focused. Be determined. Be hopeful. Be empowered. Empower yourselves with a good education, then get out there and use that education to build a country worthy of your boundless promise."
"I was too worried about the grades and I should have been more worried about learning."
"When girls are educated, their countries become stronger and more prosperous."
"With every word we utter, with every action we take, we know our kids are watching us. We as parents are their most important role models."
"Together, we can help make sure that every family that walks into a restaurant can make an easy, healthy choice."
"When I hear about negative and false attacks, I really don't invest any energy in them, because I know who I am."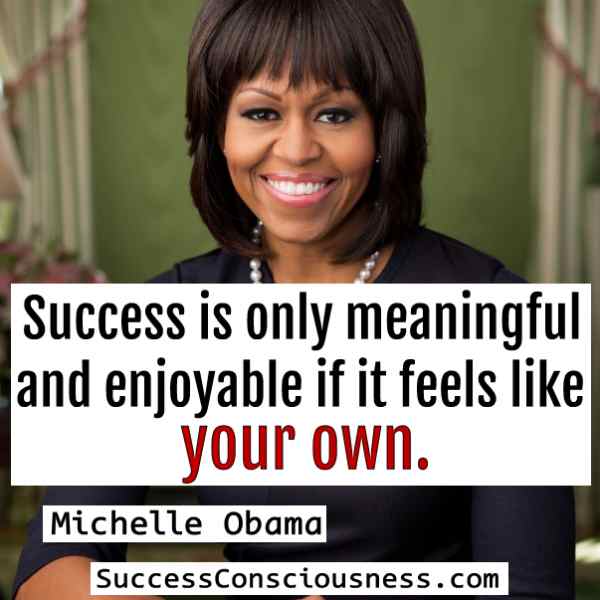 "Success is only meaningful and enjoyable if it feels like your own."
"One of the lessons that I grew up with was to always stay true to yourself and never let what somebody else says distract you from your goals."
"For so many people, television and movies may be the only way they understand people who aren't like them."
"Whether you come from a council estate or a country estate, your success will be determined by your own confidence and fortitude."
Michelle Obama Quotes on Life
"Every day you have the power to choose."
"Exercise is really important to me – it's therapeutic. So if I'm ever feeling tense or stressed or like I'm about to have a meltdown, I'll put on my iPod and head to the gym or out on a bike ride along Lake Michigan with the girls."
"Together, we can help make sure that every family that walks into a restaurant can make an easy, healthy choice."
"As a mom, I know it is my responsibility, and no one else's, to raise my kids. But we have to ask ourselves, what does it mean when so many parents are finding their best efforts undermined by an avalanche of advertisements aimed at our kids."
"The issues that cross a president's desk are never easy. The easy questions don't even get to the president."
"Don't be afraid. Be focused. Be determined. Be hopeful. Be empowered."
"If you don't get out there and define yourself, you'll be quickly and inaccurately defined by others."
"Don't ever make decisions based on fear. Make decisions based on hope and possibility. Make decisions based on what should happen, not what shouldn't."
"Our greatness has always come from people who expect nothing and take nothing for granted – folks who work hard for what they have, then reach back and help others after them."
"My father's life is a testament to that basic American promise that no matter who you are or how you started out, if you work hard you can build a decent life for yourself and an even better life for your kids."
Michelle Obama Quotes
Quotes Directory >> Michelle Obama Quotes
If you enjoyed reading my articles, you can thank me by clicking on the button below!
Buy Me a Coffee