We would like to present you here a collection of Toni Morrison quotes about life, love, books and other topics.
Toni Morrison was an American novelist, essayist, book editor, and college professor.
Morrison was born on February 18, 1931, as Chloe Ardelia Wofford, in Lorain, Ohio, where she was also raised.
In 1953, Morrison graduated from Howard University with a B.A. in English, and later, she earned a master's in American Literature from Cornell University.
In 1957, Morrison returned to Howard University, got married, and had two children. After a few years, in 1964, she got divorced.
In the late 1960s, she became the editor in fiction at Random House in New York City, and in 1970, her first novel, The Bluest Eye, was published.
In 1987, Morrison published her most celebrated novel, 'Beloved', which was inspired by the true story of an enslaved African-American woman, Margaret Garner, whose story Morrison had discovered when compiling The Black Book.
Oprah Winfrey purchased the rights to the novel Beloved, and was one of the producers of the film. In 1988, Morrison won the Pulitzer Prize for Beloved
In 1993, Toni Morrison gained worldwide recognition, when she was awarded the Nobel Prize in Literature. She was the eighth woman and the first black woman to do so.
On May 29, 2012, President Barack Obama presented Morrison with the Presidential Medal of Freedom. In 2016, she received the PEN/Saul Bellow Award for Achievement in American Fiction.
Among her novels are The Bluest Eye, Sula, Song of Solomon, Tar Baby, and many more. She also wrote children's books, short fiction, and non-fiction books.
Toni Morrison died on August 5, 2019, in New York City, at the age of 88 years.
Source: Wikipedia
Toni Morrison Quotes
Toni Morrison quotes about life, love, books and other topics.
"As you enter positions of trust and power, dream a little before you think."
"You are your best thing."
"The function of freedom is to free someone else."
"You can't own a human being. You can't lose what you don't own."
"Freeing yourself was one thing, claiming ownership of that freed self was another."
"Don't tell us what to believe, what to fear. Show us belief's wide skirt and the stitch that unravels fear's caul."
"There is a loneliness that can be rocked. Arms crossed, knees drawn up, holding, holding on, this motion, unlike a ship's, smooths and contains the rocker. It's an inside kind-wrapped tight like skin."
"You wanna fly, you got to give up the shit that weighs you down."
"She is a friend of my mind. She gather me, man. The pieces I am, she gather them and give them back to me in all the right order."
"Books are a form of political action. Books are knowledge. Books are reflection. Books change your mind."
"Correct what you can. Learn from what you can't."
"At some point in life the world's beauty becomes enough. You don't need to photograph, paint, or even remember it. It is enough."
"Definitions belong to the definers, not the defined."
"Anger, it's a paralyzing emotion. You can't get anything done."
"If you can't imagine it, you can't have it."
"And I am all the things I have ever loved: scuppernong wine, cool baptisms in silent water, dream books and number playing."
"In this country American means white. Everybody else has to hyphenate."
"She was the third beer. Not the first one, which the throat receives with almost tearful gratitude; nor the second, that confirms and extends the pleasure of the first. But the third, the one you drink because it's there, because it can't hurt, and because what difference does it make?"
"Lonely, ain't it? Yes, but my lonely is mine. Now your lonely is somebody else's. Made by somebody else and handed to you. Ain't that something? A secondhand lonely."
More Toni Morrison Quotes
"My world did not shrink because I was a Black female writer. It just got bigger."
"Love is divine only and difficult always. If you think it is easy you are a fool. If you think it is natural you are blind."
"You can do some rather extraordinary things if that's what you really believe."
"Language alone protects us from the scariness of things with no names. Language alone is meditation."
"I don't want to make somebody else. I want to make myself."
"If you surrendered to the air, you could ride it."
"A sister can be seen as someone who is both ourselves and very much not ourselves – a special kind of double."
"Me and you, we got more yesterday than anybody. We need some kind of tomorrow."
"Lonely was much better than alone."
"Pain. I seem to have an affection, a kind of sweettooth for it. Bolts of lightning, little rivulets of thunder. And I the eye of the storm."
"What's the world for you if you can't make it up the way you want it?"
"There in the center of that silence was not eternity but the death of time and a loneliness so profound the word itself had no meaning."
"I wrote my first novel because I wanted to read it."
"It's a bad word, 'belong.' Especially when you put it with somebody you love … You can't own a human being."
"We mistook violence for passion, indolence for leisure, and thought recklessness was freedom."
"I'm not entangled in shaping my work according to other people's views of how I should have done it."
"Certain seeds it will not nurture, certain fruit it will not bear and when the land kills of its own volition, we acquiesce and say the victim had no right to live."
Toni Morrison Quotes from Beloved
Quotes from the book, 'Beloved', which was published in 1987.
"A man ain't nothing but a man. But a son? Well, now, that's somebody."
"Would it be all right? Would it be all right to go ahead and feel? Go ahead and count on something?"
"Making them think the next sunrise would be worth it; that another stroke of time would do it at last."
"Sweet, crazy conversations full of half sentences, daydreams and misunderstandings more thrilling than understanding could ever be."
Toni Morrison Quotes on love
"Could you really love somebody who was absolutely nobody without you? You really want somebody like that? Somebody who falls apart when you walk out the door? You don't, do you?"
"Love is or it ain't. Thin love ain't love at all."
"You think because he doesn't love you that you are worthless. You think that because he doesn't want you anymore that he is right – that his judgement and opinion of you are correct."
"Love is never any better than the lover. Wicked people love wickedly, violent people love violently, weak people love weakly, stupid people love stupidly, but the love of a free man is never safe."
"Don't ever think I fell for you, or fell over you. I didn't fall in love, I rose in it."
Toni Morrison Famous Quotes
Here are few of Morrison's famous quotes.
"All water has a perfect memory and is forever trying to get back to where it was."
"Something that is loved is never lost."
"Somebody has to take responsibility for being a leader."
"If there's a book that you want to read, but it hasn't been written yet, then you must write it."
"I would solve a lot of literary problems just thinking about a character in the subway, where you can't do anything anyway."
"It is what you don't write that frequently gives what you do write its power."
Toni Morrison Quotes
Quotes Directory >> Toni Morrison Quotes
You might also like to read Brené Brown Quotes.
Image source – DepositPhotos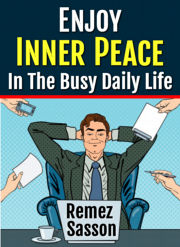 Release stress and tension!
Stop being troubled by fears and worries!
Discover how to enjoy inner peace in daily life
If you enjoyed reading my articles, you can thank me by clicking on the button below!
Buy Me a Coffee