Bob Ross quotes about painting and about life.
Bob Ross (Robert Norman Ross) was an American painter, art instructor, and television host. He was born on October 29, 1942, in Daytona Beach, Florida.
In 1961, Ross enlisted in the United States Air Force and was put into service as a medical records technician. During his Air Force career, Ross developed a taste for painting after attending an art class at the Anchorage U.S.O. club.
Ross retired from the Air Force in 1981 and returned to Florida, where he studied painting under the painter Bill Alexander.
Bob Ross became the television host of The Joy of Painting, which aired between 1983 and 1994. In each episode, Ross taught techniques for landscape oil painting. This made him a painting teacher for the masses.
Bob Ross Quotes about Painting and Life
"Believe that you can do it, cause you can do it."
"It's so important to do something every day that will make you happy."
"I think each of us, sometime in our life, has wanted to paint a picture."
"Talent is a pursued interest. Anything that you're willing to practice, you can do."
"Find freedom on this canvas."
"All you need to paint is a few tools, a little instruction, and a vision in your mind."
"I guess I'm a little weird. I like to talk to trees and animals. That's okay, though."
"There are no mistakes, just happy accidents."
"I think there's an artist hidden at the bottom of every single one of us."
"Make love to the canvas."
"Let's build a happy little cloud."
"Let's build some happy little trees."
"In painting, you have unlimited power. You have the ability to move mountains. You can bend rivers. But when I get home, the only thing I have power over is the garbage."
"They say everything looks better with odd numbers of things. But sometimes I put even numbers – just to upset the critics."
"If you do too much, it's going to lose its effectiveness."
"There's nothing in the world that breeds success like success."
"I really believe that if you practice enough, you could paint the "Mona Lisa" with a two-inch brush."
Best Bob Ross Quotes and Sayings
A selection of Bob Ross quotes and sayings about painting, trees, and life.
"Don't forget to tell these special people in your life just how special they are to you."
"There's nothing wrong with having a tree as a friend."
"We want happy paintings. If you want sad things, watch the news."
"Talk to the tree, make friends with it."
"We artists are a different breed of people. We're a happy bunch."
"That's a crooked tree. We'll send him to Washington."
"Every day is a good day when you paint."
"This is happy place; little squirrels live here and play."
"Didn't you know you had that much power? You can move mountains. You can do anything."
"Be so very light. Be a gentle whisper."
"You need the dark in order to show the light."
"You too can paint almighty pictures."
"Anytime you learn, you gain."
"You can have anything you want in the world once you help everyone around you get what they want."
Bob Ross Famous and Funny Quotes
A selection of funny and famous Bob Ross quotes.
"Remember how free clouds are. They just lay around in the sky all day long."
"I taught my son to paint mountains like these, and guess what? Now he paints the best darn mountains in the industry."
"Use absolutely no pressure. Just like an angel's wing."
"If I paint something, I don't want to have to explain what it is."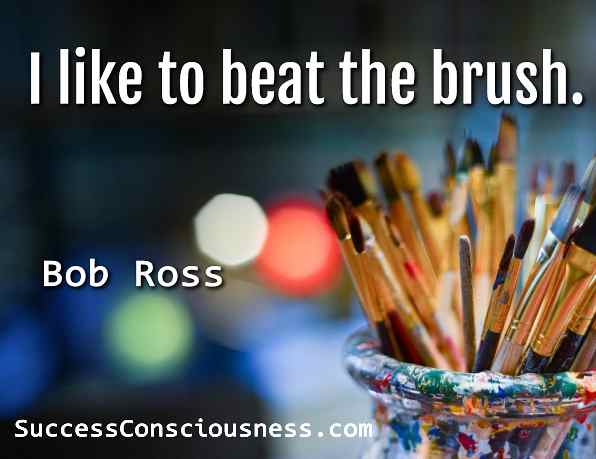 "I like to beat the brush."
"In nature, dead trees are just as normal as live trees."
"It's life. It's interesting. It's fun."
"You can do anything here. The only prerequisite is that it makes you happy."
"No pressure. Just relax and watch it happen."
"How do you make a round circle with a square knife? That's your challenge for the day."
"Isn't it fantastic that you can change your mind and create all these happy things?"
"If we're going to have animals around, we all have to be concerned about them and take care of them."
< class="art-link botext">You will enjoy reading Ralph Waldo Emerson quotes
"Water's like me. It's lazy. Boy, it always looks for the easiest way to do things."
"However you think it should be, that's exactly how it should be."
"We don't really know where this goes – and I'm not sure we really care."
"We don't laugh because we feel good, we feel good because we laugh."
"I can't think of anything more rewarding than being able to express yourself to others through painting."
"You can do anything you want to do. This is your world."
" Go out on a limb – that's where the fruit is."
" You have to allow the paint to break to make it beautiful."
Some Words on Bob Ross Sayings and Quotes
Bob Ross, the painter and television host, left behind a legacy of inspiring and uplifting quotes that continue to resonate with people around the world.
His unique blend of artistry and philosophy has touched the hearts of many, encouraging them to embrace creativity and find beauty in the simplest of things.
Through his iconic TV show, "The Joy of Painting," Bob Ross shared nuggets of wisdom that went beyond the canvas. His soothing voice and gentle demeanor made his quotes motivational and therapeutic.
The quotes of Bob Ross are an invitation to see the world through the lens of positivity and appreciation for nature's wonders.
Many of his statements centered around the beauty of landscapes and the tranquility of the great outdoors. He often celebrated the splendor of mountains, forests, and serene lakes, reminding us to "happy little trees" and "almighty mountains" into our lives.
Bob Ross Quotes
Information about Bob Ross life and painting style.
Quotes Directory >> Bob Ross Quotes