A few days ago, my wife cleaned the house, including our teenagers twins rooms, which require courage and patience to enter and to clean, and I did the cooking.
I like cooking, and therefore, I sometimes do the cooking. This time, among other things, I prepared pumpkin soup. I have already prepared pumpkin soup several times, and since we had the ingredients at home, I decided to prepare it gain.
The recipe for the pumpkin soup is very simple, and it is easy to prepare. It is actually, an original recipe.
If you wish to prepare the same kind of pumpkin soup, as I did here is the recipe:
Ingredients for 8 Servings:
Here is a list of the ingredients for the pumpkin soup:
About ½ kilo pumpkin
2 carrots
2 potatoes
1 small onion
2-3 spoonful of vegetable soup powder
½ teaspoon of salt
A little white pepper
1-2 of flat teaspoons of sugar
2 teaspoonfuls of lemon juice
A medium package of tomato paste
Water
How to Prepare the Pumpkin Soup
Here are the steps for preparing the pumpkin soup:
Peel off the skin of the pumpkin.
Cut the pumpkin into medium sized pieces.
Cut the carrots, potatoes and onions into small pieces.
Put all the ingredient into a large pot and fill it with water, almost to the brim.
Put the pot on the cooker until it boils, and then on medium heat for about 30 minutes. Stir the soup every now and then.
A little while before the soup is ready, mash part of the ingredients with a spoon or with mixer. This will make the soup thicker.
After preparing the soup, pour it into bowls, and if you wish, add on top of the soup a small quantity of sunflower seeds.
Enjoy!
As you see, it is easy to prepare and does not require too much work.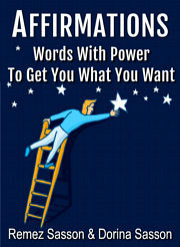 The eBook about Affirmations
Positive statements for creating changes in your life
Thank you for reading! To support my website and work, please click on the button below! Thanks in advance!
Buy Me a Coffee