Meditation can significantly impact your body, mind, and spirit. It is one of those things that you shouldn't miss on your schedule. Taking some time to do it can do wonders in your life. But then, you must be sure you're doing it correctly, especially if you are just getting started.
There are various ways to meditate; you should learn them as a beginner. Knowing them, will ensure you meditate correctly and get the desired benefits from every session.
This post will take an in-depth look at the best tips to make meditation more manageable and fun as a starter.
Let's explore them.
Beginner's Guide to Meditation: Easy and Fun
1. Start Small
The small steps you make as a beginner will help you meditate better in the future.
Sometimes you don't have the time to meditate because of a tight schedule. The good news is that you can spend a few minutes every day building your knowledge on meditation and doing some practice.
For instance, taking some time to take 10 deep breaths won't affect your schedule. Everyone has time for that, so start doing it today. You might find yourself resisting it, but once you do it and it feels good, you'll want to spend more time for another 10 or 20 breaths daily.
2. Have Designated Meditation Clothes or Activewear
How you dress when meditating can also impact the results. Dressing for meditation will ensure your mind focuses on it and make you feel more comfortable. Wearing custom t-shirts made for meditation can be a great idea. You can buy ready-made t-shirts or print yours.
Sometimes you have no idea of what to print on a meditation t-shirt. Choose custom t-shirts that also goes with your comfort and reflects your personality.
3. Keep It Simple and Make It About Your Body and Self
There are a lot of things that people do when meditating. However, not everything will work for you when you start meditation.
During your research, especially from YouTube videos, you'll find different techniques you can infuse into your meditation practice sessions.
However, it would be best, if you were keen on every technique you try, while practicing.
Ask yourself if it makes you feel comfortable and at peace. You can try as many techniques as possible but eliminate those that don't seem to work.
Ensuring meditation is about you will make it easier and more fun.
4. Get Comfortable
You cannot find meditation fun if you aren't comfortable with it. This should start with how you feel. Don't go meditating when you are annoyed or anxious about something. A settled mind will meditate better, so ensure you are in a state of stillness, rest, and comfort.
Also, the position you take while meditating matters a lot. For some people, sitting on an armchair outside makes them comfortable. Others will find lying by the poolside ideal or even some a sun lounge.
Some even prefers a simpler comfort wear like cotton pajamas, custom t-shirts, etc., In short, everyone has their comfort place and position; find yours.
5. Watch How You Breath
We already mentioned that breathing impacts meditation. But then, it's not just about breathing but how you do it.
It will help to keep your breathing simple and ensure your mind focuses on it. The breaths you take while meditating should be deep and slow.
This will allow your mind to get immersed in the meditation session.
Once you concentrate on breathing, your mind gets clear of thoughts you might be having. Count every breath and ensure you reach your target before stopping. You can set your target at 10, 20, 50, or more breaths.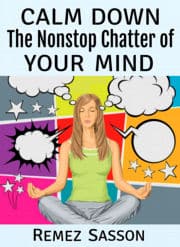 Do you wish to free your mind from endless thinking?
Discover How to Stop the Constant Chatter of the Mind
6. Take a Meditation Nap
Taking a nap during meditation will also help you as a beginner. This means meditating as you take a nap, but you should be careful not to fall asleep as you do it. This is one of the most complex meditation techniques for beginners because a deep sleep might kick in if you get too comfy.
It would be best if you took this time to reflect on yourself. You can play some lovely slow music on your headphones to help you meditate.
In short, you should make the entire experience as enjoyable as possible. If the first session comes out well, it will be easier to do this more consistently.
7. Set a Timer and Scan Your Body
You shouldn't just meditate without timing yourself. Remember, as you keep going, you need to change from one technique to another. Thus, it will help to plan the whole session and allocate time for every technique. This will make it easier to get the desired results from the session.
Also, some positions might feel uncomfortable staying in for long. That's also a reason to have a timer on. As you do this, set aside time to focus on your body and scan it. Your mind might try to wander away from scanning your body but ensure you bring it back to it.
8. Look For Help
Sometimes you might need help with meditation. The internet is one of the most significant resources you can use for learning. For instance, online guided meditation videos can play a critical role in your meditation journey. They can make it easier to get the desired results.
You can also look for written guides to help you get started with meditation. Do not get stuck with a technique. Head over to the internet and conduct a simple search. That will make it easier to get past such hurdles and make meditation more manageable and fun.
Conclusion
Those are some of the best meditation tips for beginners. Getting the desired returns from your meditation session depends on your meditation technique. The insights we've shared above are easy and doable. You can incorporate them into your routine as a beginner.
They'll help you simplify meditation if you initially found it challenging. Start by creating a daily practice routine where you will apply these tips.
With time, your meditation skills will improve, and it will be less of a chore but more of a fun thing to do every day.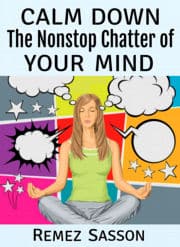 Do you wish to free your mind from endless thinking?
Discover How to Stop the Constant Chatter of the Mind