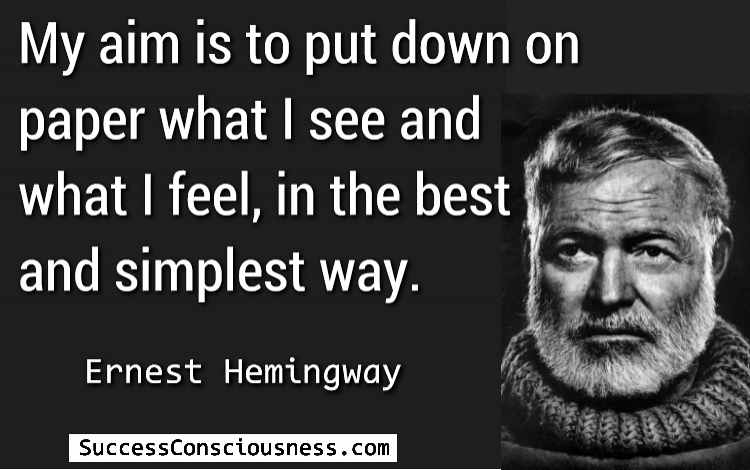 Ernest Hemingway quotes that show the essence of his thinking and philosophy of life.
Ernest Miller Hemingway was an American author and journalist. He was born on July 21, 1899, in Oak Park, Illinois, where he was raised, and died on July 2, 1961 in Ketchum, Idaho.
Hemingway strongly influenced 20th-century fiction, while his life of adventure and public image influenced later generations.
Hemingway produced most of his work between the mid-1920s and the mid-1950s and won the Nobel Prize in Literature in 1954. He published seven novels, six short story collections, and two non-fiction works. Some of his novels, short stories, and non-fiction works were published after his death.
Ernest Hemingway Quotes and Inspirational Sayings
Here are some insightful and engaging Ernest Hemingway quotes.
"My aim is to put down on paper what I see and what I feel in the best and simplest way."
"In order to write about life first you must live it."
"Happiness in intelligent people is the rarest thing I know.
"The best way to find out if you can trust somebody is to trust them."
"Courage is grace under pressure."
"I drink to make other people more interesting."
"There is no friend as loyal as a book."
"There is nothing to writing. All you do is sit down at a typewriter and bleed."
"The world breaks every one and afterward many are strong at the broken places."
"When people talk listen completely. Don't be thinking what you're going to say. Most people never listen. Nor do they observe. You should be able to go into a room and when you come out know everything that you saw there and not only that. If that room gave you any feeling, you should know exactly what it was that gave you that feeling."
"Every man's life ends the same way. It is only the details of how he lived and how he died that distinguish one man from another."
"There's no one thing that's true. It's all true."
Inspirational Quotes by Ernest Hemingway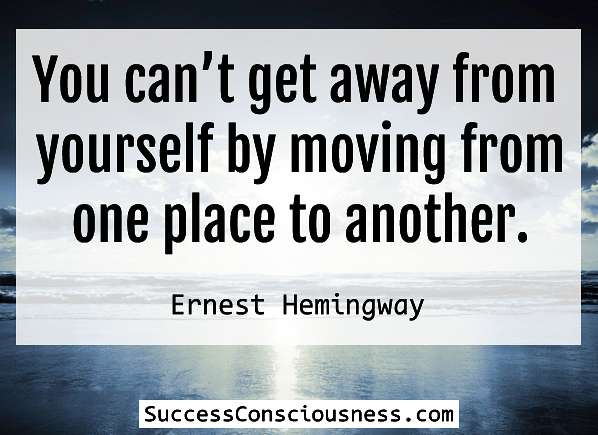 "You can't get away from yourself by moving from one place to another."
"It is good to have an end to journey toward, but it is the journey that matters in the end."
"If you are lucky enough to have lived in Paris as a young man, then wherever you go for the rest of your life, it stays with you for Paris is a moveable feast."
"There is nothing noble in being superior to your fellow man; true nobility is being superior to your former self."
"I love sleep. My life has the tendency to fall apart when I'm awake, you know?"
"If something is wrong, fix it if you can. But train yourself not to worry, worry never fixes anything."
"The first and final thing you have to do in this world is to last it and not be smashed by it."
"When you love you wish to do things for. You wish to sacrifice for. You wish to serve."
You might like reading Brene Brown Quotes.
Ernest Hemingway Quotes and Advice
"The only thing that could spoil a day was people. People were always the limiters of happiness except for the very few that were as good as spring itself."
"The most painful thing is losing yourself in the process of loving someone too much."
I can't stand it to think my life is going so fast and I'm not really living it."
"Never to go on trips with anyone you do not love".
"Always do sober what you said you'd do drunk. That will teach you to keep your mouth shut."
"The hard part about writing a novel is finishing it."
"All things truly wicked start from innocence."
"But life isn't hard to manage when you've nothing to lose."
"So far, about morals, I know only that what is moral is what you feel good after and what is immoral is what you feel bad after."
"Wine is the most civilized thing in the world."
"You know I don't love any one but you. You shouldn't mind because some one else loved me."
More of Ernest Hemingway quotes and Sayings
Ernest Hemingway quotes and sayings about Life Books and Love.
"Never delay kissing a pretty girl or opening a bottle of whiskey."
"The world is a fine place and worth the fighting for, and I hate very much to leave it."
"Any man's life, told truly, is a novel."
"Live the full life of the mind, exhilarated by new ideas, intoxicated by the romance of the unusual."
"For a long time now I have tried simply to write the best I can. Sometimes I have good luck and write better than I can."
"All good books have one thing in common – they are truer than if they had really happened."
"All my life I've looked at words as though I were seeing them for the first time."
"The best people possess a feeling for beauty, the courage to take risks, the discipline to tell the truth, the capacity for sacrifice. Ironically, their virtues make them vulnerable; they are often wounded, sometimes destroyed."
"The most painful thing is losing yourself in the process of loving someone too much, and forgetting that you are special too."
"I'm with you. No matter what else you have in your head I'm with you and I love you."
Ernest Hemingway Short Biography
After finishing high school, Hemingway reported for a few months for The Kansas City Star, and then left to the Italian front to enlist with the World War I ambulance drivers where he was wounded in 1918. Hemingway's experiences in wartime formed the basis for his novel 'A Farewell to Arms'.
In 1922, he married Hadley Richardson, the first of his four wives and moved to Paris, where he worked as a foreign correspondent.
In 1926, Hemingway published his first novel, 'The Sun Also Rises'.
Hemingway married Pauline Pfeiffer after divorcing Hadley Richardson in 1927. However, after returning from the Spanish Civil War where he had been a journalist the couple divorced.
His experience in the Spanish Civil War led him to writing and publishing his novel 'For Whom the Bell Tolls'.
Later, Ernest Hemingway married his third wife, Martha Gellhorn in 1940, but they separated, too, after some time.
After publishing 'The Old Man and the Sea', one of his masterpieces, in 1952, Hemingway went on safari to Africa, where he was almost killed in two successive plane crashes. These incidents left him in pain for much of the rest of his life.
In 1959, Hemingway moved to Ketchum, Idaho, where he put an end to his life in the summer of 1961.
More information on Ernest Hemingway
Quotes Directory >> Ernest Hemingway Quotes