It is a good idea to repeat affirmations when the New Year begins. You can repeat affirmation about the goals and positive changes you want to make in your life during the coming year.
The more you believe in the words you repeat, the better chance there is that they will materialize. I have given instructions for using affirmations in several articles, which you can find here, at this website.
Below, you will find a list of affirmations for the new year, to help you create a great and wonderful year for you.
Start repeating the affirmations now, and throughout the whole year. Repeat them with attention, interest and faith, and don't allow negative thoughts to spoil them.
To get results, repeat the affirmations, not just on or around the New Year, but throughout the year.
Let the affirmations sink into your mind, inspire, energize and motivate you.
New Year Affirmations for a Successful Year
This year is going to be a great and wonderful year for me.
This year, my dreams are coming true.
I have found the love of my life in this new year.
I start the new year, and continue every day, with sending and receiving peace and love.
A wonderful, productive and successful time is starting now.
I choose to be happy every day of this new year.
Day by day, my financial condition is improving.
I have a great job with a good pay.
I have now all the money I need.
Money is flowing now to my bank account from various sources.
Everything I do turns into success.
Everything in my life is improving.
I feel healthy and full of energy.
Every day of my life is full with happiness and joy.
Day by day, more and more sunshine is filling my life.
I make plans, visualize my goals, and move toward accomplishing them.
Make a resolution to repeat affirmations not only when the New Years begins, but throughout the year.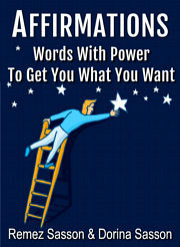 The eBook about Affirmations
Learn how to improve your life with positive statements
If you enjoyed reading my articles, you can thank me by clicking on the button below!
Buy Me a Coffee