Do you read positive quotes that are motivational and inspirational?
Most people love to read inspiring quotes. Why do they love reading them, and why quotes are important?
We like to read quotes, especially positive quotes, because they are concise sentences that express wisdom and awaken motivation, inspiration and happiness. Reading them, is like eating a piece of good chocolate or a slice of a delicious cake.
Why You Need to Read Motivational and Positive Quotes?
Why quotes are useful and helpful? Here are a few reasons for the importance of quotes in everyone's life.
1. Motivational quotes motivate, inspire and encourage
Quotes have the power to motivate, inspire and encourage, When you feel unhappy or lacking motivation. At such time, read a few quotes, and you will see how your mood and state of mind begin to improve.
2. Motivational quotes energize and prompt you to take action
When you need a little push and some fuel to help you take action, motivational quotes can be of great help.
3. Positive quotes create optimism and hope
Positive quotes make you see the bright side of life, motivate, and give hope for a better future.
At such times, it would be most helpful to read the words of people who achieved something in their life. Read their motivating words, and let these words sink into your mind.
4. Motivational quotes give insight and wisdom
Many quotes contain insight and wisdom condensed into a few words. If you read the quote a few times, and focus on the words, often, you will discover wisdom and insight that will help you in your life.
5. Motivational quotes offer hope
Another benefit that you can gain by reading motivational quotes is hope.
When in a difficult situation, when you do not know what to do, or when you feel down, quotes are like rays of light entering your life and driving away the darkness. I do not mean that every quote would give you hope, but quite a few are really a beacon of light.
6. Positive quotes bring light and happiness into your day
A motivational quote has the power to awaken happiness and to brighten your day.
It is a good idea to read a few in the morning, after waking up, and again, before your leave for work. Often, the words you read stay with you and affect how you think, act and react, for a long time after reading them.
7. Motivational quotes teach
If you pay attention to the words, while reading a quote, you will gain good advice from it, which you can then implement in your life.
8. They open the mind to see life in a wider perspective
Quotes often open the eyes and the mind to understand truths and acknowledge things you otherwise would have missed. They let you see life from another, wider perspective, and in this sense, they expand the mind and the awareness.
9. Motivational quotes are mood changers
Reading quotes can improve how you feel and change your mood for the better. It is like drinking something that uplifts your spirit.
That is why it is a good idea to have some good quotes handy, so you can read them whenever you want to uplift your spirit.
10. Positive quotes inspire you to adopt positive thinking and take positive action
Positive quotes make you feel positive, optimistic, energetic and optimistic, ready to set goals and take action. Their effect might continue for a little while or longer. To turn this attitude into a habit, you need to read quotes often and every day.
Discover beautiful positive quotes and positive thinking quotes.
11. Reading motivational quotes does not require effort
Reading them is actually fun and joy, does not require any effort, and hardly takes more than a few moments.
When and How to Read Motivational Quotes
I suggest you read a few quotes in the morning, after waking up, or just before going to work. You may also read them at night, before going to sleep. These are not the only times suitable to read them. Any time of the day is suitable.
You may carry with you a small notebook, where you can write the quotes you most like, and which have a strong positive effect on you.
You may also store quotes on your cell phone, where they can be always available to you when you want to read them.
You can find many motivational quotes here, at this website at the quotes directory.
Motivational Quotes for a Positive State of Mind
Reading positive quotes lead to a positive state of mind.
Here are positive quotes to uplift your state of mind:
"Create a definite plan for carrying out your desire and begin at once, whether you are ready or not, to put this plan into action." – Napoleon Hill
"All our dreams can come true… if we have the courage to pursue them." – Walt Disney
"Try to be a rainbow in someone's cloud." – Maya Angelou
"Hope is the thing with feathers that perches in the soul, and sings the tune, without the words and never stops at all." – Emily Dickenson
"Aim for the moon. If you miss, you may hit a star." – W. Clement Stone
"I find that the harder I work, the more luck I seem to have." – Thomas Jefferson
"Today I will do what others won't, so tomorrow I can accomplish what others can't." – Jerry Rice
"Don't wait for something big to occur. Start where you are, with what you have, and that will always lead you into something greater." – Mary Manin Morrissey
"Why quotes are important? They make you realize great truths, inspire you, and encourage you." – Remez Sasson
"Keep away from people who try to belittle your ambitions. Small people always do that, but the really great make you feel that you, too, can become great." – Mark Twain
"The people who get on in this world are the people who get up and look for the circumstances they want, and if they can't find them, make them." – George Bernard Shaw
"Go confidently in the direction of your dreams! Live the life you have imagined. – Thoreau
"I have not failed. I've just found 10,000 ways that won't work." –T homas A. Edison
"You are never too old to set another goal or to dream a new dream." – Les Brown
"We may encounter many defeats but we must not be defeated." – Maya Angelou
"Always make a total effort, even when the odds are against you." – Arnold Palmer
"What you do today can improve all your tomorrows." – Ralph Marston
"To forgive is the highest, most beautiful form of love. In return, you will receive untold peace and happiness." – Robert Muller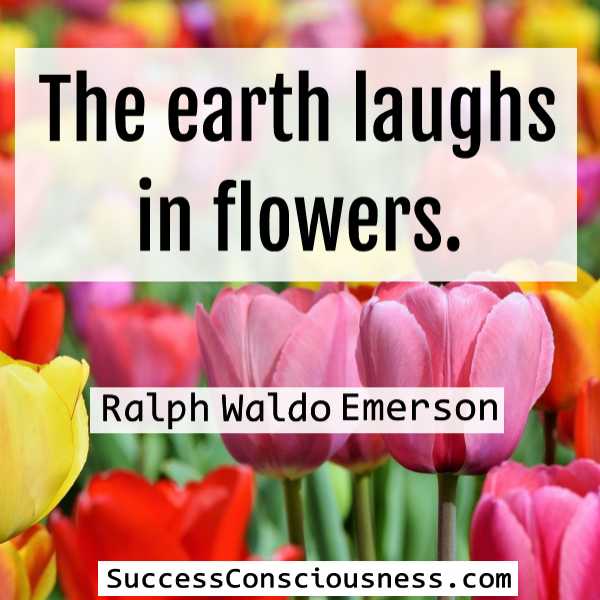 "The earth laughs in flowers." – Ralph Waldo Emerson
"Don't be afraid to give up the good to go for the great." – John D. Rockefeller
"Pursue some path, however narrow and crooked, in which you can walk with love and reverence." – Henry David Thoreau
"Everyone here has the sense that right now is one of those moments when we are influencing the future." – Steve Jobs
Positive thinking will let you do everything better than negative thinking will." – Zig Ziglar
"Failure is simply the opportunity to begin again, this time more intelligently." – Henry Ford
"Look deep into nature, and then you will understand everything better." – Albert Einstein
"We must let go of the life we have planned, so as to accept the one that is waiting for us." – Joseph Campbell
"We can do anything we want to if we stick to it long enough." – Helen Keller
"The only place success comes before work is in the dictionary." – Vince Lombardi
"Attitude is a little thing that makes a big difference." – Winston Churchill
"Motivation is everything. You can do the work of two people, but you can't be two people. Instead, you have to inspire the next guy down the line and get him to inspire his people." – Lee Iacocca
"With the new day come new strength and new thoughts." – Eleanor Roosevelt
"The more tranquil a man becomes, the greater is his success, his influence, his power for good. Calmness of mind is one of the beautiful jewels of wisdom." – James Allen
"Believe in yourself! Have faith in your abilities! Without a humble but reasonable confidence in your own powers you cannot be successful or happy." – Norman Vincent Peale
"here will be obstacles. There will be doubters. There will be mistakes. But with hard work, there are no limits." – Michael Phelps
Never ask a man what he knows, but what he can do." – George Lorimer
"If you cannot do great things, do small things in a great way." – Napoleon Hill
"Be not afraid of life. Believe that life is worth living, and your belief will help create the fact." – William James
"Don't judge each day by the harvest you reap but by the seeds that you plant." – Robert Louis Stevenson
"The great thing in this world is not so much where you stand, as in what direction you are moving." – Oliver Wendell Holmes
"Though no one can go back and make a brand new start, anyone can start from now and make a brand new ending." – Carl Bard
"Most of the important things in the world have been accomplished by people who have kept on trying when there seemed to be no hope at all." – Dale Carnegie
"The keys to success are your thoughts and dreams your plans and your perseverance." – Anonymous
"The past is a stepping stone, not a millstone." – Robert Plant
"The best way to predict your future is to create it." – Abraham Lincoln
"Compassion and tolerance are not a sign of weakness, but a sign of strength." – Dalai Lama
"When you want something, all the universe conspires in helping you to achieve it." – Paulo Coelho
"Stay positive even in a negative situation. Refuse negative thoughts, and surround yourself with positive people." – Remez Sasson
"We must be willing to let go of the life we have planned, so as to have the life that is waiting for us." – E. M. Forster
Quotes Directory >> Motivational Quotes