A collection of Remez Sasson quotes for inspiration, motivation, happiness, and a successful life.
Remez Sasson is the author and creator of the website SuccessConsciousness.com.
He has been writing for many years about self-improvement, positive thinking, the law of attraction, spiritual growth, meditation, and inner peace.
Remez Sasson has written several popular books that have improved the lives of thousands worldwide.
In his articles and books, he provides practical and clear guidance for building a positive mindset, using the law of attraction and creative visualization, practicing meditation, and gaining inner peace and mental calmness.
His articles and books result from years of study, personal experience, and practicing various inner development methods.
Remez Sasson Quotes
"Today, I choose to be cheerful and happy and do the things I love doing."
"Both success and failure start in your mind."
"Be the writer, director, and actor of the movie that you run in your mind. In this movie, see yourself living a wonderful and prosperous life right now, not in the future."
"When the restless activity of your mind slows down, and when your thoughts stop rushing like waves on a windy day, then you will start getting glimpses of the sweet taste of inner peace."
"Take a trip to a faraway country, but also take a trip within your soul, through meditation and other self-improvement techniques. Both trips will teach a lot about yourself and about life."
"A well-developed concentration skill enables you to focus your mind on each task and goal, and therefore, accomplish it faster, with less effort, and with more efficiency."
"A persistent strong desire pushes your goal into manifestation."
"Nothing is more rewarding than peace of mind."
"Positive thinking means expecting, believing, and visualizing what you want to achieve. It means seeing in your mind's eye the thing you want as an accomplished fact."
"You get peace of mind not by thinking about it or imagining it, but by quietening and relaxing the restless mind."
"Pay attention to the coffee you are drinking, to the food you are eating, to the beautiful view around you. Be here and now, and your joy, happiness, and calmness will increase."
"When the mind thinks of success, the outside world mirrors these thoughts."
"When you choose to let go of unhappy past events and stop dwelling on fears and worries, you choose happiness."
"Perseverance is like driving a bulldozer that moves on and on, removing all obstacles on the way."
"What you think today is what you live tomorrow."
"Feeding your mind with thoughts about success will create success in your life."
"The mental movie that you play in your mind is the life that you will live tomorrow."
More Motivational Remez Sasson Quotes
"Positive and negative are directions that lead to different results. Which direction do you choose?"
"If you do not allow doubts and disbelief to enter your mind, abundance will fill your life."
"Riches, mediocrity, and poverty begin in the mind."
"Peace of mind is not dependent on special conditions or circumstances. It is the privilege of everyone, not just of yogis and monks living in an ashram or a monastery."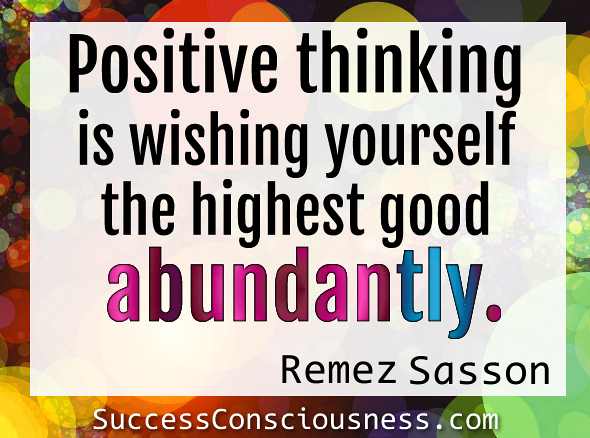 "Positive thinking is wishing yourself the highest good abundantly."
"When you rehearse success in your mind, you experience success in your life."
"Whatever your present reality is, stick to POSITIVENESS, and keep expecting THE BEST to happen."
"Changing your life, achieving your dreams, traveling abroad, or getting a new job, start with a change of attitude."
"If a door opens, take the chance to experience new experiences, live a different life."
"Both abundance and scarcity start in the mind."
"Dare to be optimistic. It doesn't cost you money or time. It's free and makes you feel better, more confident, and more energetic."
"Live in the now and focus on the now because it is the only time that exists."
"When you choose to persevere, no goal is too big for you."
"You will never progress in life if you choose to remain in your comfort zone."
" Self-growth means the improvement of your habits and developing kindness, considerateness, and inner strength."
"Reliving past events in your mind or worrying about the future prevents you from living and enjoying the present moment."
You may share the quotes on this page in your social media accounts and on your website while mentioning Remez Sasson as the author of the quotes.
Read also Remez Sasson quotes on happiness.
Remez Sasson Books
Remez Sasson has written several books. Here are a few of them:
Quotes Directory >> Remez Sasson Quotes